Good afternoon, Wednesday. You have so much room for improving things. Thus far, I hung a giant cork board in my bedroom, ate quite a lot of perfect toast, drank coffee without bringing on a migraine, AND I finished my first painting since September. I would show off this last accomplishment, but it is a gift for my guy and will thus not be revealed to the internet at large until after the giving. However, I can show you one of the elses I got up to earlier today: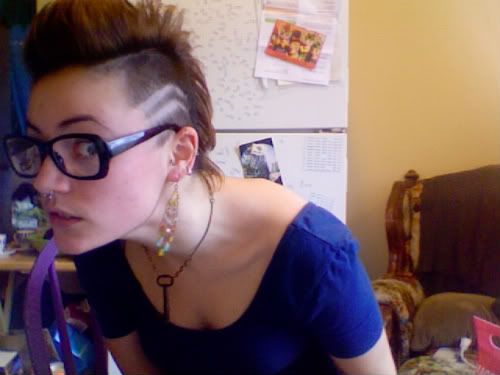 I am trying to stave off the urge to dye the 'hawk teal without help (it is taking all of my will-power), and so I gave myself a little haircut instead. I will call this period of my life the "why the hell not" phase. It began this March, the first time I rocked the mohawk. I have generally been much happier since then.
A piece of
today's soundtrack
, courtesy of someone bored in a Boston office (and thus blowing up my inbox):
Then there's the ubiquitous Slug speech to get me souped for an awesome awesome day full of low-key wonderful:
And I will not apologize for my jealousy towards Nicki Minaj's pastel Cruella DeVille jam going on here:
And for my next trick, I will start a philosophical debate about Leonard Cohen's "Hallelujah" via Justin Timberlake on my Facebook wall. (Because when you are a loudmouth, you tend to live among many other delightful loudmouths.)
See you on the flip side of the year, loved ones. Pop champagne, kiss your boo when the ball drops, break in your new heels, eat pigs in a blanket with whole grain mustard, make a glittery mess of your (or someone else's) living room. However you decide to celebrate, know you are a small part of why I do a little happy dance in the mirror every morning upon waking.
And a final warning: 2011, I am coming for you in floral leggings and shit-kickers.