Last Saturday I made a pilgrimage to the Boston outpost of the House of Blues to see
Grinderman
. Now, I will admit to being poorly acquainted with him up to this point in my life--Button and I have surely listening to plenty of the Bad Seeds while galavanting in our high school days, but fuck if I know which albums or how long ago that was--so I had to do the pretend-you-know-all-the-things-the-cool-kids-do dance for most of the evening.
But mostly, I spent the night mesmerized. I'm sure I've mentioned in the past that the physical sensation of live music makes me happier than most things in the world. Rock music especially. The vibrations in the air move my blood faster or something. The bass in my chest sounds like "home" more than the word itself. And this particular instance of live music, I could not tear my eyes away. Some people are just built to carry off a magical kind of stage presence, a conviction I've come to from my years in poetry. But it was at shows that this idea first entered my mind. Performance, though a construct, is something that at its core must be instinctual. To be seen, to see yourself being seen, and to then feed off that energy and use it to create an experience that would not have been possible otherwise is astonishing when properly executed. I suppose what I'm trying to say is that Mr. Cave was made for the stage, and I am glad to have witnessed him.
Take a look for yourself:
In my internet travels this morning, I stumbled across
this blog post
, chock full of pictures of the man, mostly in his younger days. This photo in particular made me very happy: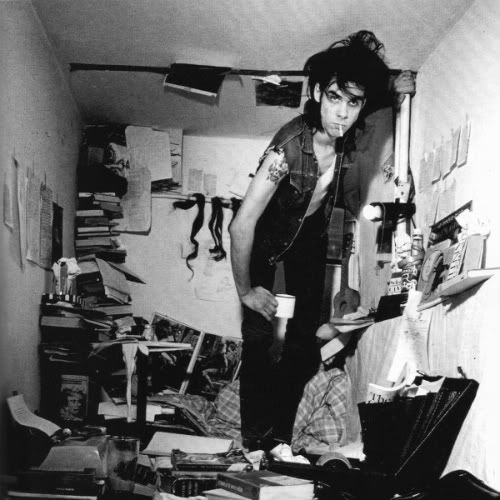 I have been cleaning my room for what feels like (and is probably close to) the past three weeks, and it looks like a more color-intensive version of the same. Books and papers everywhere, clothes falling into coffee cups, typewriters strung with paper and stories half-typed. I've cleared away the dishes, but the mess does not get much smaller for all my trying. I suppose this is the way some of us will always live. It's like the mess in my head's just overflowed in the real world. Generally, I've decided to avoid it, choosing instead to melt Rachmaninoff records all morning to make new wall art. If Nick can survive the clutter, so can I.
And then there's this, which just makes the day that much better.