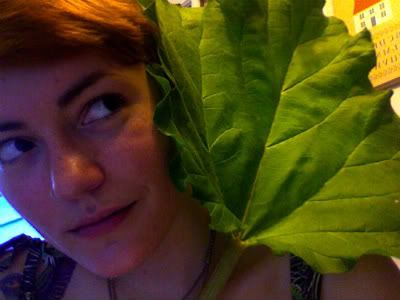 The leaves in the suburbs put farm country to shame. Hadley asparagus may be delicious this time of year, but I will take rhubarb any day of the week, if only because it means I get to play with knives in the backyard, all while donning my peacock-print Tina Turner dress. And since I can't have her fabulous, giant hair at the moment, I suppose I will settle for wearing the old denim jacket I unearthed in the basement this afternoon, to be rocked a la 1984:
And just because I found this somewhat disturbing, here she is dancing seductively with a giant shoe?
If I have time to be watching all of this, it is thoroughly summer. I am in the midst of my only real vacation for the next string of months and I've already managed a close encounter with a deer on the Palisades Parkway, locking my keys in my car outside Sean's new apartment, getting lost off the BQE, a brief layover in Clinton Hill to visit the men of Black 29 Productions, the "recession special" at Gray's Papaya, a dentist appointment, and two massive loads of laundry.
Also, mostly so that my sister knows what I'm talking about when I say "those cats that wave at you in Chinese restaurants", I bought this: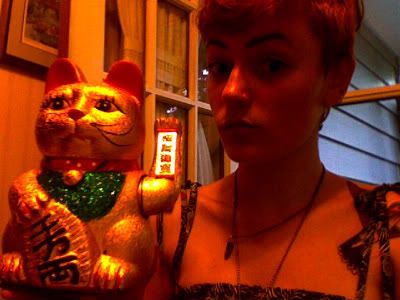 I think that I may have a super power that allows me to turn pictures the color of my hair?
I haven't named him yet. (Suggestions welcome.) He will match perfectly with all of the old furniture my grandmother has nearly been carrying to my car herself--since I've been here, I've been offered all manner of dressers, shelves, end tables, lamps, etc. from the vast stores in the basement, attic, and garage. It would seem that my family has enough furniture for three families. I can be almost certain that none of it is new. Curb shopping coupled with pack rat tendencies makes for interesting after dark navigations of the living and dining rooms. And every visit I've made for the past year, I forget they moved the location of the kitchen garbage.
And because I haven't written any solid lists in the past few weeks, here are all the things that would be in my dream apartment: a fire pole, an iron spiral staircase, floor to ceiling bookshelves, talking candlesticks/flatware/appliances that sang with me so the chores went by quicker, an endless supply of avocado salad (avocados, orange peppers, red onion), and that stained glass fake Tiffany lamp that used to hang over my Gram's kitchen table.
I love New Jersey. I refuse to speak ill of it. Cos when I'm here, even on the days when it's hotter than Tina's legs in any given mini skirt, I get grass naps and New York as my great big humid backyard.