So that long-awaited Worcester entry (yes, I know you're dying to hear all about it!) has grown--after discovering a strange backlog in my phone photos--into a monstrous beast of a food post. If you'd like to hear someone more refined discuss something like, say, appropriate food/book pairings, you should probably talk to
Sophia
. She does things like cooking, and not just the put-Ramen-in-the-microwave-and-hope-for-the-best cooking. She uses immersion blenders and roasts chickpeas and is generally food fabulous. As for me, I am a lowly take-out monger who sometimes feels well-bread enough to go out and try her hand at eating in public. What follows is a kind of food/people pairing guide from the past few weeks.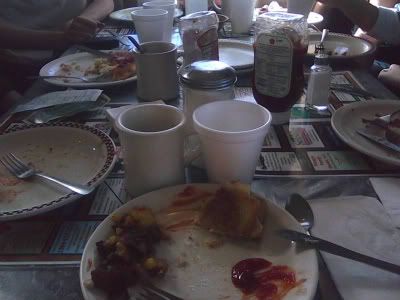 1. Now, there isn't much food here. But that is important. Because the last time I ate at Sulley's we were ordering more food until we asked for the check, and absolutely everyone cleaned their plates completely, down to the last spots of syrup and butter and whipped cream. We don't have much by way of diners here (at least not compared to Jersey anyway), but this place cooks up a mean breakfast. Something I would have known sooner, had I not been a late sleeper until very recently, because they are only open until 2 PM. Back in the day when Sean was still the slam grand pooba around these parts, he brought every feature he could wrangle out of bed at a decent hour to breakfast at Sulley's. It's not exactly a regular hangout of ours, but, being that the sign says "home of Polish music", and the food puts a couple Jersey diners I know well to shame, I'm going to claim it as the go-to spot for a cup of coffee and fat plate of whatever your pre-noon poison is.
2. I met Kaitlin for dinner in Worcester
forever ago
and have not been able to adequately verbalize the food we ate. It's not that the words won't come--it's that I can't get at the right ones. I'll try to start small. We ate at
The Flying Rhino Cafe & Watering Hole
(why yes, I did Google "restaurants Worcester" and pick the one with best name/menu combo, but mostly it was the name). We decided we need to eat as many courses as possible so as to get the best feel for the menu. Also, we were celebrating an important advancement in my higher education (you all remember my pesky thesis, right?), so eating like royalty seemed necessary. We started with crab rangoons, which are an item we use to test many a restaurant's competency at old favorites. You can tell we've thought about this. After that, we had not one, but TWO salads, the first of which had Gorgonzola, cranberries, and candied walnuts served with chicken over spinach and red cabbage, all in a warm bacon vinaigrette. I think it should be probably be noted that at this point in the meal, I squealed with delight upon tasting my first bite of salad.
Audibly squealed
. Kait and I have this undying love for sweet and savory salads, and this may have been the best one I ever had, if only because of the dressing. Then we had a second salad of cucumbers, tomatoes and onions with feta cheese and balsamic, which came with the entree we had ordered. Which was a whole different, killer fish. Behold:
The glory of rum creme ravioli is one my sister and I had never experienced before, and I wonder now if they exist anywhere but on this menu. Logically, they must be available somewhere other than this one place of Shrewsbury street, but I feel confident in saying that these are the best that will ever exist because there is no way anyone can do the dish pictured above in a way that would taste better. Absolutely. No. Way. The raviolis themselves are pumpkin (imagine a pumpkin pie pierogi, if you will) with more cranberries and walnuts, as well as asparagus in a rum creme cinnamon sauce. Also, more Gorgonzola. I guess we themed our foods based on their secondary ingredients? Anyway, my sister and I saw this on the menu and literally stopped looking. Our instincts were very, very right. Though a lot of talking and laughing (and making fun of the restaurant's bizarre ambient music choices) took place at that table, when we were eating our ravs, we were almost silent. And then, there was dessert.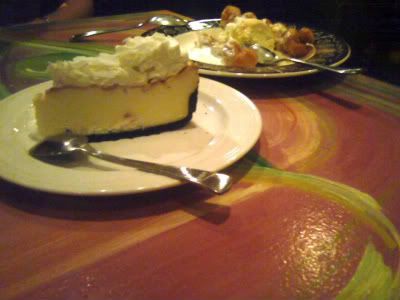 I wish I feel like any of my food pictures did this meal justice. Our final food experience of the night was two-fold; my philosophy when it comes to dessert is that too much is never enough, so we ordered both a slice of the raspberry white chocolate cheesecake and the cinnamon fried dough and then decimated them both. The lesson I learned from this dinner was that my sister and I should become food critics. We know so many random things about various "genres" of cooking because of all the restaurants we've worked at that we could probably start a food blog together and it wouldn't even be a stretch. Hmm. Now I'm going to have to go call her...
3. If Sulley's is the poet destination of the Pioneer Valley for breakfast, then the Route 9 Diner is the drain we always seem to end up circling when it comes time for a midnight snack. The food's not great, but they allow party of 10+ long after everyone else has turned off their grills for the night, and they make me black&white milkshakes, so I must love them for that, if nothing else. Also, there are lots of little adorable moments between my friends there, kind of like the one in the next picture, and I treasure those (even if they do make me kinda nauseous sometimes).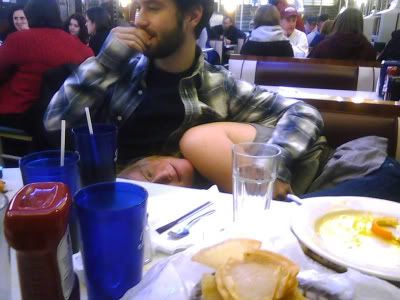 4. In closing, I leave you with one of the brilliant musical selections from The Flying Rhino, the very special spot where my sister first learned that not only do I listen to Lil' Wayne but I can speak competently enough about him to school her on Young Money. This one's a hit the two of us were singing on the drive home sometime close to Christmas when I picked her up from karaoke night at the bar our friends' father own. I cannot wait to meet up for dinner again, if only in the hopes that they'll be playing a radio station where this gem is still in rotation: