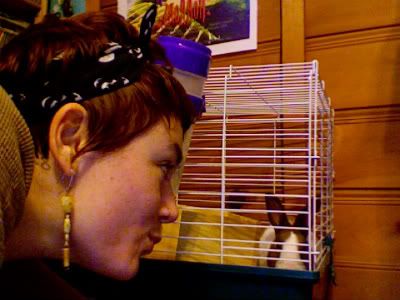 In lieu of chilling with this adorable guy all day (and we all know what a cutefest THAT would be), I am doing something I have not done since high school.
I am going to a Starbucks to write.
I know, I know, terrible. But there are only chain coffee shops in suburbia. Today I must
+ deposit this week's spoils at the bank
+ restock the house with grilled cheese supplies
+ write a seven page Serenity story with a secret
+ collect my yoga mat, my husband pillow, and various books
+ drive back to the cave/treehouse
Did I mention that I made a cave within what Cass and I refer to as our treehouse? It is made of furniture, so it's not a proper cave, but it is the perfect enclosed space to crawl into and cook up wacky ideas for my thesis. I will get around to posting about it soon, most likely sometime after I post about dinner in Worcester, which at this point took place over a week ago. But I promise you, it was wonderful. And you will know all about it as soon as I see fit to tell you. As a preview, there were plush rhinos, five courses, and sore abs from laughing. My kind of night.
*from now on, anytime I refer to Serenity, I am talking about the story cycle that is the main part of my thesis project
**I may abhor Starbucks enough to go to the one indie coffee shop I know of around here, known as Cool Beans, and thus abhorrent in an entirely different set of ways.
***I can't believe my little sister texted me from class at Ramapo to make sure we had sufficient cheese for her purposes. I mean, it's not like she's ME or something.