Playboy U
named Hampshire # 21 on the list of top party schools in the country this year and while I'm not sure if that's entirely accurate (I mean, since when does a predisposition to decriminalized smokables a party school make?), our biggest party of the year is tonight, and I still have no idea what to wear.
Halloween is an event I change my mind about until the very last possible moment. But here's what I'm thinking at this sleepless moment:
>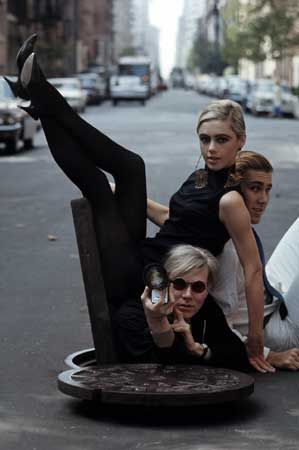 Edie Sedgwick is what most biographers would call one of the Silver Factory's first "superstars". I am more likely to call her one of Warhol's many casualties. Regardless, she seems an appropriate costume, being that I've been living in my fur hooded coat and black tights lately. The only thing left to accomplish is the silvery hair and the eye make-up, and man, did she know how to do up her eyes. Yes, yes, this is who I am dressing up as tonight. I just wish I had a leopard-skin pillbox hat.
And then, there is that business of the Dead Poets Slam, which throws a kink into everything. I made it to the finals as Denise Levertov (a feat that flabbergasted my poetry professor, who said he was sure that Levertov would never work in a slam; however, I was one of the high scorers of the night) and so I have to show up in the library gallery looking decidedly un-"superstar":
Even if they may have both been stars in their various cosmos around the same time, that's about the end of the similarities between my two chosen Halloween personas. Incidentally, they are also my girl-crushes of the week (but really of forever: my eternal style icon and my first favorite poet of college who made me fall in love with sharks all over again).
Anyway, I'm off to turn in my thesis proposal and then do some serious writing for my last class of the week, which frustratingly absorbs the bulk of a much needed afternoon -- Georgie wants a haircut, Charley wants me to take him shopping for costume supplies, and then there's this whole business of the slam that I have to prepare for. A few extra hours in the day would probably be nice, but wait a second, isn't Daylight Savings Time this weekend? Oh wait, it's the bad version. Fuck.