Besides finding that fabulous cruise portrait of my grandparents while visiting the homestead, I got a lot of important things accomplished while I was in New Jersey. First off, I was able to assess the recent freak tornado damage firsthand.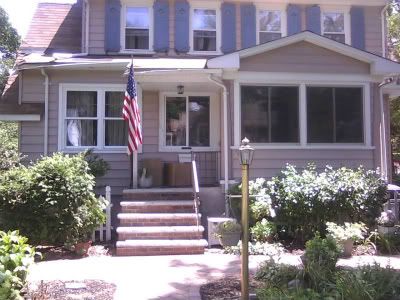 It doesn't look like much from the street, but most of the gutters are askew and a good deal of shingling has been torn from the roof as the result of a rogue falling tree. The living room ceiling is actually cracked from the force of the falling branches, something that unnerved me quite a bit, and I wasn't even around when it happened. I guess natural disasters and the effect they have on their victims got stuck in my head (along with a lot of chain saw buzzing from around the neighbor), because I ended up writing a poem using them as a motif for the different ways people devastate you without realizing it. Sometimes just one smile could knock a house down, although more often than not, it just sidelines me from intelligent conversation or any kind of coherent attempts at judging a situation for what it is. But I digress.
The main reason I made the trip was not assess damages, but rather to reclaim my beloved Oldsmobile Wendeline from the possession of my little sister. To celebrate the occasion, I resurrected a set of Valentine's Day-themed fuzzy dice I've had lying around probably since middle school (I did not then and do not now have any understanding of why I buy the things that I buy, but sometimes these odd impulse purchases come in handy) and hung them from the rear-view mirror.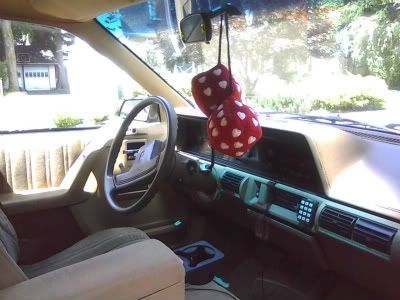 The reason I was able to reclaim Wendy was because my little sister just bought herself her first real car. It's a Saturn, but she got it from a GM dealership and while she was signing the papers with my mother, I got to sit and ogle Corvettes.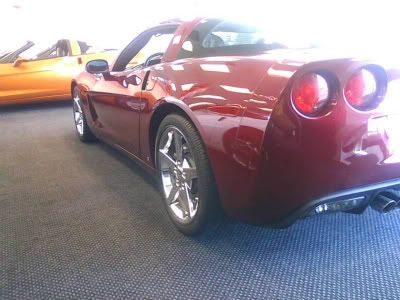 All the while, I couldn't help thinking that older model Corvettes were much more attractive cars.
Perhaps the most exciting (or useless, depending on your perspective) thing I did while in Jersey was go to a mall I haven't been two in over a year under the pretense of taking my brother sneaker shopping. He only likes slip-ons and my mother invariably buys him weird dorky shoes from L.L. Bean that have bungee cords or look like they were manufactured for the kinds of people who only look like they're having fun in catalog-land. So I bought him a pair of Vans that happened to have skulls on them, which precipitated a ludicrous argument with my mother and grandmother (not the one in the picture previously posted) about how I was encouraging him to don "symbols of the occult". Right. Anyway, while on this mall visit, I finally got myself a new watch to replace the Target watch that broke at the beginning of the summer. In honor of this new watch, I decided to pull out my box of costume jewelry (most of which was purchased at various thrift stores, antique shops, and gem shows throughout my high school career) and color coordinated all of my wristwear.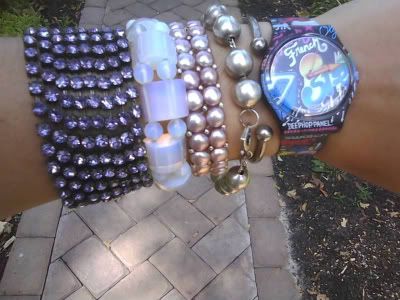 The pink mother of pearl is one of my daily bracelets, but the rest were stacked on simply for the joy of being heavily accessorized. I used to be one of those hundred rubber bracelet kids (come to think of it, I had a skull cuff I wore all through middle and high school that my mother and Gram frowned upon heavily back in the day), a phase that was analogous to my love of Power Beads and my collection of large plastic bangles, so I guess it makes sense that I feel the need to pile on bracelets again every once in awhile. A watch has been a mainstay in my life, and I guess I just get scared that it will be lonely, or that my wrists are in some way strange if not encumbered by various points of interest. I'm probably just overly-obsessed with jewelry, judging by the cookie tins of necklaces, fingers full of rings, and various extra holes in my head. Everyone from Jersey has their own particular brand of excess - I'm just glad mine does not involve hairspray.