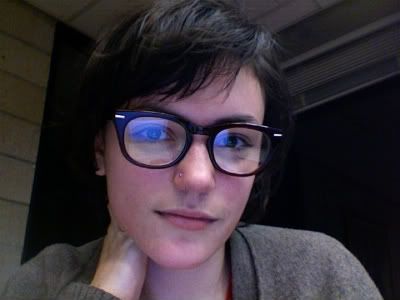 Back in my natural habitat, the library reference desk after regular business hours.
I have been neglecting this, and I apologize for the half-assed presentation. Screen shots of the movies I've watched recently do not count as updates, but I've been overwhelmed. Now that my schedule is more or less pinned down, I feel more confident in assessing the state of my brain and its many contents. So. We'll start with the most basic and work our way towards the more complicated aspects of things.
Courses for the semester: The Idea of Europe - The Contemporary European Novel; The Personal Essay; Faulkner & Morrison; and, finger-still-crossed, Nell's Wednesday night Point of View Workshop. Twelve-ish hours of work a week, divided between different library departments. Slam team practice three times a week (Monday, Thursday, Saturday). All of this on too-little sleep and zero caffeine. I may have to un-quit coffee until I find a better way to continue functioning that doesn't involve various illegal substances. For now, my Tension Tamer tea is just not cutting it.
Anyway, moving into the realm of the larger and more possible world. I have been reading
The Bluest Eye
at every opportunity over the past couple of days, and I remembered that reading Toni Morrison my senior year of high school is what got me interested in writing poetry again. Odd, sort of, because she is a prose writer. Totally logical because her prose has this fantastic quality to it that begs you to read out loud, even though it will take more time/annoy your roommate/get you kicked out of the library. I mutter bits of the sentences under my breath just to hear them, and it is delicious, exactly as I remember from
Song of Solomon
. All of this musing belongs on
Edible Words
, but I'll indulge my digression because I haven't had the freedom to indulge much of anything recently. So, reading Morrison convinced my 17-year-old self to give poetry another chance. That's a statement that needs some explaining.
When I was in third grade, I wrote the first poem I can remember, about caterpillars and watermelon. I have no idea what it even looks like anymore, don't even think I still possess the notebook it was written in, but I do remember reading it at circle time, and my teacher telling me that I had done a good job. This is probably why I ended up in slam - simply because the first poetic experience I can recall being affected by was of such a public nature. I continued writing poetry on and off through early high school (delighting in the realization that all poetry did not have to rhyme, probably around age 10 or so), a practice that consumed so many notebooks I'm surprised it didn't start an environmental lobby against me. My freshman and sophomore years I wrote at least two or three poems a day and was twice published in my high school's literary journal (looking back now, the poems were awful, but I was still proud). And then I transfered, lost my footing, and decided it was time to reinvent myself. The poetry notebook got buried under staple guns and tubes of acrylic paint, and I was convinced I'd go to college for art. Then, I read
Song of Solomon
and the whole world came crashing down.
Returning to Toni Morrison for me has been a lot like my decision to start slamming again: I'm feeling tentative, trying to take baby steps, ending up splashing through all of my old puddles anyway (and in the most delightful of ways). When I read a good piece of writing, I am reminded of how much I have always loved words. I am really enjoying being reminded of that right now. I can only hope Faulkner will be as kind to me, because the last memory I have of him is falling asleep in my 10th grade English class while everyone talked in circles around two sentences of "A Rose For Emily". But I slept through everything in that class, good and bad.
Beyond reading, which I have been doing more than my fair share of lately, I have been doing a lot of work looking for internships for the summer. Living just outside of Manhattan when I am home from college is a convenience I don't take lightly; I plan to heavily exploit my geographical advantages and hopefully land a (paid) internship in publishing for the summer. Because if a bartender is a poet who drinks for free (I couldn't help myself), I will end up an alcoholic if I keep devoting my summers to bars. No more of such things. As an editorial intern, I would learn insider secrets about how to sell myself to agencies and publishers. This is just the kind of spy-like job I need if I ever expect to get something produced that will make it to a bookshelf. And thus, I have reached a strange impasse: I never learned how to write a resume. Weird, I know. I can compose a perfect business letter. But I have no idea how to present
myself
on paper. This a serious problem, because the deadlines are looming. On top of all the homework and rehearsal and attempting to remain sane taht must go on between now and May. I am praying not to drop the ball.