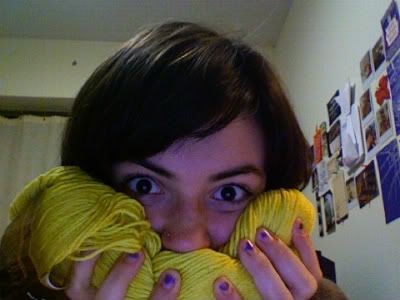 Apparently freedom tastes like acid yellow yarn (80% Pima cotton/20% wool) on sale for less that $4 a hank at Webs. With a rare empty afternoon, I went and got a long overdue haircut - it's been over two years since the last time a professional has handled my hair...since senior prom. I shiver at the thought of such disasters, although that was probably one of the best haircuts I've ever had. Also, that weekend someone tried to hit on me in a Starbucks by telling me to give him a call if I ever had "the jungle fever". I kid you not. So probably one of the more memorable periods in my life, to be sure. Anyway, new haircut, but I'll only show you when I have found the perfect amount of wax-like products to put in it to make it not look like I'm a member of the Jetson family. Not that I mind such things. I just don't think it's a good everyday way to be. (I am clearly getting delirious as a result of the time of night; feel free to stop reading at any time).
I wrote a five page scene for my film class this afternoon, and in spite of its obviously flaws, I'm pretty proud of myself for churning out a chunk of solid dialogue without months of coaxing. As I said to James last night, it took me years to get the characters in my book to want to talk to each other, so fictional conversation is definitely not my strong suit.
Anyway, I have to get up at 7 AM. Oh how I love January. Just another two weeks and it will all be turned on it's ear again. We start shooting Evan's movie on Friday, and I could not be more nervous or excited. Acting is such a strange new fish.