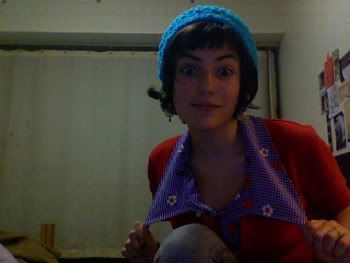 I feel like this weekend was endless, but it's already gone. I am avoiding yoga tomorrow morning because I opted to stay up late and finish the LOTR trilogy for the first time. Extended cuts, the only way to watch. I made myself a hat out of the leftover yarn from my baby blanket project. And now I'm working on another, thinking of starting an Etsy store for some extra cash. Idle hands make me nervous, I am so happy I bought a new crochet hook. The hours feel much more full.
I saw Sean's Div 3 show on Friday night with James, and while it was embarrassing to hear my voice recorded talking about sex (thank god no names were attached), he was in top form and it was absolutely amazing. I want to read about him being published for the umpteenth time in some newspaper years from now and smile, just knowing how his passion for everything he does is infectious, and that he got where he was always going.
Last night I went to a bar for the first time in forever, which was bizarre, but fun. I didn't drink, but maybe one day. Looking forward to Christmas break and Hennessy's, having James meet Johanna, Guinness on draft where everyone knows my name.
Thanksgiving looming closer every day, and all I can think about is my first time at turkey dinner without my dad. Not like he's dead or anything, just flying to North Carolina for god knows what reason. Is this what people do when they get laid off? Is he finally having his mid-life crisis? It would help thinks make more sense if I had something to attribute it to.
I should probably go to sleep. Too many late nights coupled with early mornings are causing everyone I run into to tell me that I look pale/tired/sick/deranged/what have you. I blame my broken heater. But really, I have no one to blame but me.