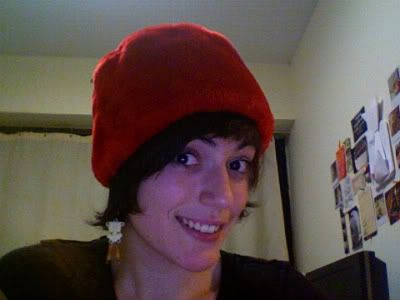 I feel like a crimson
Cossack
Q-tip right now. Try saying that five times fast...nope knew you wouldn't be able to. This hat is too warm. I have my fingers crossed for some snow soon. I can feel all of the moisture evaporating from my skin every time I go outside, and I want it back. In the form of big fat flakes the size of the kind in Raisin Bran.
My hair is growing so fast I don't know what to do with myself.
I have a Div 2 committee finally, which means that I can move forward with phase two of my college learning experience. I had a really inspiring conversation tonight when walking to James' house after my writing workshop (which was highly productive; I have too many ideas for my book...I can't even begin to write) with a new friend of mine, a French exchange student. I asked him what he was studying and he said he didn't know, in spite of being in his third year. So I asked him where he went to school in Paris, and he told me the Institute of Political Science, but that he couldn't pick what he wanted to learn about, so he had decided that he was going to spend his life learning about everything. He said that next year he'd probably settle down in journalism, and use that as a way to find out about anything and everything he wants to know about. I was fascinated. I am fascinated. I mean, I want to keep learning for my entire life, but I guess I never thought of having that be my sole goal, something to achieve by any means necessary. I have adopted it, keeping the idea very close to my heart. Strangely enough, the conversation somehow came out of talking about snow; apparently he's never seen Paris completely blanketed in snow. Just brown slush in the streets. I can't imagine a life without at least one snow globe day. And for the next year or so, his family is living in Qatar, so there won't be many blizzards when he visits his parents.
I can't remember a winter where there wasn't at least one serious snow. I am heavily looking forward to it. I want to do this hat justice by any means necessary.
P.S. Guillermo del Toro is a certified genius. Anyone who hasn't realized this yet missed the boat a long time ago. (I just watched
Hellboy II: The Golden Army
on blu-ray, and good lord was it breath-taking.)