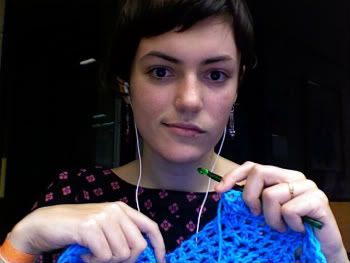 At the library, as usual. This time, I am avoiding all the reading I have lined up for myself and doing something that shows a more physical result: crocheting baby blankets. Someone I have known for nearly half my life is having twins in a matter of months. I don't know what to do with that information. She's only four years older than I am. She is married and with child. I am knotting yarn out of anxiety. And happiness for her. Everyone is so excited.
I burned my lip when sampling the potato soup I was making last night for dinner. It is very annoying. I try to be a good faux-housewife and disaster strikes. Last time it was much worse though. Last time, the blender spewed hot pureed potato all over me right before I had to go to class. So maybe these are just baby steps towards normalcy.
I get to register for spring course in a matter of days, and I feel like a nerd for how excited I am about it. So much reading and writing yet to be done. If you could see me, you would laugh at how I am diabolically rubbing my hands together as if plotting and evil world takeover. I have a stack five or eight books high on my desk that I will read in the next few weeks, and that makes me so happy. But I think the most bookworm-y thing about me is that Thanksgiving is a day I look forward to not for the food or my family (although I am obviously excited about both), but because I left my brand new hard cover copy of
War and Peace
on my mother's desk when I left for Massachusetts in September. And I want it. My brain aches for words.
Also, I miss the Cantab. I love my fiction workshop more than I have loved a class at Hampshire so far (with the exception of Black Mountain Blues, which was just the most riotous good time because of Benfey, and I can't count it because he is a Holyoke professor), but I miss off-campus poetry. Especially after the kinds of things that apparently happen at our venue when people forget that respect is a two way street.