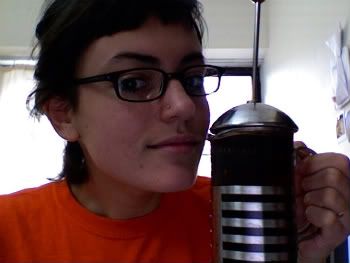 I woke up hours ago and have been doing homework, but I am just now brewing coffee. I always forget I have a huge canister in my fridge waiting for me. As well as two boxes of Gevalia that my grandma gave me in September. With such a supply, I should really be drinking more of it.
At any rate, last night was the first featured poet at Slam Collective I've really responded to in awhile. Marty McConnell, I bought two of your chapbooks, and I wanted you to read for at least another hour. It was on par with, if not more intense than, the first time I saw James Caroline. They are my favorite spoken words poets, I have decided. I've seen a lot of people perform, but even though people like Patricia Smith and Jack McCarthy and their ilk have come to Hampshire, I just didn't get it. Sure, they're talented. But I just didn't feel connected.
Anyway, Halloween in two days. That means Maggie in two days. I have to spend a hefty chunk of my day today cleaning my room in preparation. Which will be easier than usual, because James is writing all day. His script is due Friday. It's only a preliminary draft, but it's still really exciting. We start shooting in January or February. We will be freezing, but it will be fun. I'm sure I'll be making lots of coffee then. Good thing, cos I have no idea who will be drinking all of this with me.