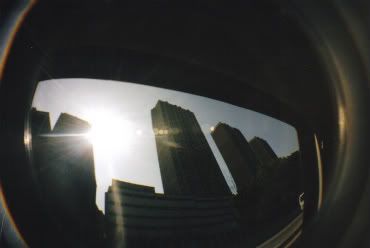 Some days, I envy the kind of people who are born, go to school, raise a family, grow old and die all in the same metro area. I used to think I'd be one of these people. My family is from a tiny one traffic light town a stone's throw from Manhattan. When you start out that close to what many people claim is the greatest city in the world, it doesn't seem like much improvement could be made to your location. I came of age on NJ Transit: every weekend of early high school meant days-long sleepovers with my best friend at her family's place in Weehawken and PATH trips from Hoboken to Lower Manhattan; later, another friend and I would stash his car in the lot behind an Asian restuarant in Fort Lee and walk across the GWB, or take the tiny privately run buses from one side of the river to the other.
When I was a teenager, the world was a vast, uncharted place that I could do just fine without. I had my future laid out right in front of me. I want to go to Cooper Union, live in Alphabet City, take the bus home to visit my little brother with spoils from street fairs and flea markets on alternating weekends. All of my closest friends planned to move to New York after graduation. We spent nights in friend-of-friends apartment watching
FLCL
, using up endless rolls of film taking pictures of ourselves, playing a game called 'brackets' where we pitted pairs random nouns against each other head-to-head until we were only left with two options to defend. Analog versus digital. Britney versus Christina. Diesel versus unleaded. As the list narrowed, things became much more bizarre. Hair cuts versus spare tires. Whiskey versus toothpaste. The Lakers versus table salt. But never once did we pit New York against anything. There was no contest.
When applying to colleges, I went through several rounds of rigorous extracurricular art classes trying to get my portfolio up to snuff for the review process inherent to applying to straight-up art schools. Whenever a rep from one of the big schools came through, I would give them my work to look at, hoping to get early feedback and keep honing until I was unstoppable. I got accepted to several school based on these reviews my junior year of high school, but I wasn't ready to accept, because none of them were in Manhattan. (I apologize for the ill-disguised humblebrag.) But even though I didn't take any of the offers, it woke me up to the possibility of other cities. Baltimore. San Franciso. Boston. It had never occurred to me that there were other places I might want to cut my teeth.
My last year of high school, Meredith Lippman told me she would hunt me down and kill me if I ever stopped making art. She also told me to apply to Hampshire, a now-infamous nudge that resulted in me moving the middle of Western Massachusetts dairy farmland and finding the room I needed to breathe. Hampshire got me hooked on slam poetry, introducing me to poets from everywhere. I housed roughly half the people who came through for features on my living room couch. And barely any of them were from New York. They loved their cities as fiercely as I thought I loved Manhattan and defended them as such. When I cycled through Gotham on my way home for holiday breaks, I realized that some of the glow was gone. It didn't seem so special when compared to the way my new friends talked about Chicago or Denver or Madison or Portland or Vancouver.
While at Hampshire, I made near-weekly pilgrimages to Cambridge for readings at the Cantab. The magic of a single bar basement (that admittedly spells like rat piss) overtook any remaining love I had for New York and replaced it with a deep-seated fondness of the two-hour slog down I-90, the endless open mic, and the alley behind the bar where I have had more exquisite, hysterical, illicit moments than I dare to recount to the internet. Many more memorable nights than Manhattan had ponied up during our time together.
I moved into the living room of my sister's one bedroom Providence apartment for a summer between semesters and had more free time than I knew what to do with. I befriended a gang of singer-songwriters and spent my evenings hanging out windows of the 3rd floor at AS 220 with a cigarette, wandering the tiny downtown laughing loud enough to wake the dead. One of these new friends gave me knife when he heard where my apartment was. Another introduced me to the loop pedal. I had met the city with a severely broken heart and when I went back to my cow field the following fall, I was good as new. The city wasn't what I was used to--a bit unfinished, busted up and dneglected anywhere beyond the mall or College Hill--but that rough charm made me feel charming too. I hadn't even seen the change happen, but I was assertive, convinced of my worth. Where in Manhattan I had always defered to some near-stranger to tell me what I was worth, Providence taught me that your value as a person is only what you believe it to be. If you can sell yourself as a success story, anyone listening will nod their head in agreement.
With school winding down, the decision about where to lay down roots was present, but suddenly unanswerable. So many places had my heart. I stayed close to school for six months, unwilling to go back to any city at all. As a teenager, I'd been convinced rural living would be the end of me. But more and more, abandonning New England became the thing I feared. Manhattan was a foreign country. Rhinestone and neon and teeming with so much I could no longer call familiar. I had a friend nagging me to move back so we could get some tiny space in Brooklyn and "live the dream". After a lot of excuses, I finally just said no outright. It was bizarre to hear the words leave my mouth.
I don't want to move to New
York. I'd outgrown the fairytale.
I always took for granted that my twenties belonged to the fat glut of light across the river from my family's house. I spent so many years praying to the shine there.
Make me special, make me interesting, make me one of your hum
. I remember a morning when I woke up at 6 AM on the floor of a dorm at the New School and thought,
yes, this, every single day--this
! Certainly, I could've been happy there. But I also know how grounded I feel here, in Boston. And how affectionate I feel towards Providence, and Portsmouth, and Pittsburgh, and a handful of other underrated cities that all live in my heart. Manhattan is supposed to be the best, but for me, it hasn't be in contention for quite some time.