I wouldn't exactly call myself a Scrooge, but this December has been a rough one. Tour's been creeping up in a semi-insidious way (read about the shows so far
here
), I've spent more time on the road to various cities or just plain in Boston than I have in my own apartment, and when I do remain stationary, work has been sapping me of my lifeblood. Being that it is my very first retail Christmas, a lot is off-kilter, which mostly means my stress levels are much higher than they should be.
In addition to my regular schedule, the past few weeks I've picked up an extra shift for the cash, meaning I work six days a week instead of the usual five. And five out of those six shifts have been closing shifts. On my day off, I've had shows or some massive errand that takes far too much energy. I have not written much of anything since finishing my undergraduate degree a few weeks ago. I haven't even properly celebrated that milestone. (Cass and I did go
out for a beer
with our men that night, which counts to a certain extent, but I am more than a little itchy for an epic night of dancing to sweat away all those lingering college woes.) In all, I've been a bit divorced from the whole Christmas spirit this year, quietly acquiring my gifts and stashing them in a Rubbermaid box in the hall closet, avoiding the fact that I get one day off from my life as a cash register jockey/glorified stock girl for family during a time when I am used to at least a week of non-stop family shenanigans. It's hard. The only time I've felt the proper amount of holiday cheer is when it's been snowing. And thus far, at least in my little corner of the world, that's only happened when I've been in Beantown.
Kait and I met up in Jamaica Plain over a week ago for an epic feast and a few cocktails at
Canary Square
on Tuesday. Now, most people who know me know I am a huge proponent of the mid-week weekend. (Maybe it's because I work for the entire real one, but I'll call that beside the point.) I am rather fond of treating Tuesday nights like Friday nights. So a whiskey sour with a sisterly gabfest and a heaping helping of food is just my speed for such an evening. Our meal was full of cheese and laughter. The burger we had killed me with delicious. The french fries were epic. The beef jerky popcorn was odd, but I ate plenty. And I gave a chapbook to our waitress. Afterwards, I took her through the freezing cold to
Deep Ellum
in Allston to be the first of our family to meet my man. It was snowing. And freezing. The cold was like magic. We all did a lot of wild gesticulating and emphatic explaining ourselves, had great drinks and a great time. The night rounded out with me singing along to Ryan Adams as we ventured out into the flurry again for the night.
And then there was the snow in Somerville the other day. I ran away to the Bean again (and
Charlie's Kitchen
in Harvard Square) after a particularly rough Sunday shift (open to close during Consumer Christmas is much more brutal for those working it than I'd been mentally prepared for that day) and spent the night, waking to a morning full of the white stuff. I walked to
Trina's Starlight Lounge
for brunch the next noon and gleefully let the cold bite my fingers. Snow caught in my eyelashes, it finally felt like Christmas. We had what can only be inadequately described as a homemade pop tart, followed by the works, all washed down with lots of coffee. I kept straining to see the snow out the frosted window. And when I walked back to my car and drove home to NoHo for work, I was so disappointed that the snow globe effect didn't reach past Worcester. The city of my home address has yet to get more than a dusting, and for that matter, I've yet to be out in the snow in my current hometown.
I spent Wednesday watching the white stuff accumulate on my car while I baked my Grandma's Christmas butter cookies in a kitchen that isn't mine. My show in Portland got canceled because of the weather, so I had a bedroom
Bloc 11
sandwich picnic and fell asleep watching Die Hard instead of performing.
Anyway, I guess the point of all this rambling is to say that I haven't exactly felt connected to the time of year. Until last night. Work was a frenzied mess, everyone in town out and shopping for last minute gifts. I left my wrapping paper in the employee closet, I've yet to pack, and I was kept up half the night by yelling from the thirsty Thursday bar crowd. However. Even though I'm not in Boston or its outliers, and even though I'm not nearly prepared for the big day tomorrow, I could hardly sleep last night for the excitement of stockings and ornaments and all of my family jammed into my gram's living room. So what if that means I'll have to brave midnight mass in a mohawk. This holiday season has been rough for me and for a lot of my friends, but it showed me that we all work hard, play hard, and have huge hearts. I wish it was possible for me to be with everyone I consider family tomorrow--the friends scattered across New England and the Midwest, I toast you! Here's to us and our crazy year!
Speaking of hearts, Jericha's been making me some goodies lately. My birthday present sheds just the right amount of nighttime light when I'm fumbling through the dark for a glass of water, and my Christmas gift took my breath away in our Christmas-lit kitchen.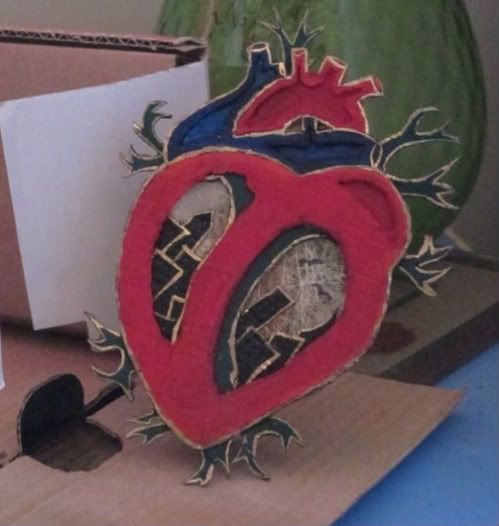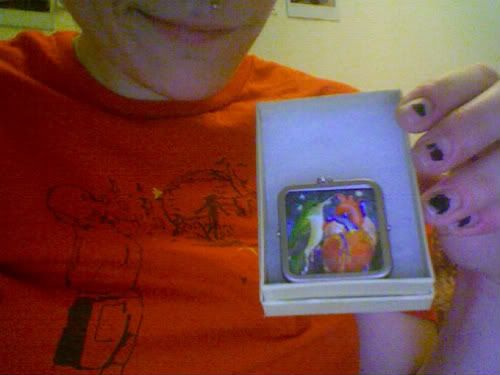 The back of the necklace says, "home is where the heart is, for the heart is a house you can hold in your hands." Amen.
In closing, I think Dickensian Kermit says it best.
Happy Holidays everyone, and a Merry Christmas if that's how you're spending tomorrow. If not, go make a snow angel at Harvard for me.