Like any diligent type-A crazy, I am working til close tonight and then running over to campus for my last Hampshire Halloween. This time of year makes me want to be witchy every chance I get, but besides wearing black boots at every opportunity and lace tablecloths as scarves on the colder days, I don't get much opportunity to be serious about it. Until today. I bought a whole host of deeply discounted Halloween make-up at CVS this morning and happily painted myself up with oily black and liquid glitter and nail polish that looks like swamp slime. "Happier than a pig in shit" is a start, but doesn't exactly touch on how many smiles I've flashed today. Mostly because I look like this: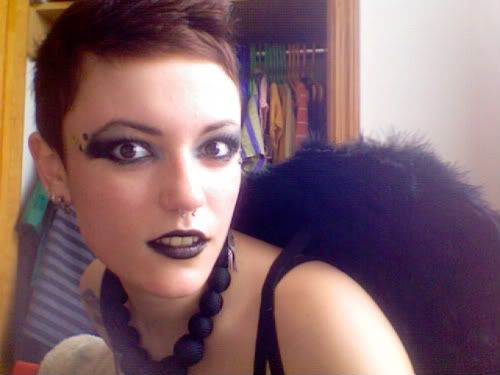 My costume isn't so complex which is a blessing for my wallet--I owned everything but the make-up and the wings before today--and I will reluctantly admit that it was inspired by a writing session I had recently where I was listening to my favorite album by the Books and realized I needed to dress up as the angel of death.
HIPSTER SCUM. I know, I know. But the effect of the costume is that I look nothing like a hipster. In fact, I look more like I'm larping, which is somewhat embarrassing. I decided not to get dressed twice today, so I've been wearing my costume on errands and got my wings stuck in the bank doors just a small while ago. The people in line seemed horrified at the sight of me. Good thing that's what I was going for.
If you paid the $20 ticket fee for non-students (or if you happen to be a student), I'll see you on the dance floor tonight. And hopefully not impale you with my feathers.