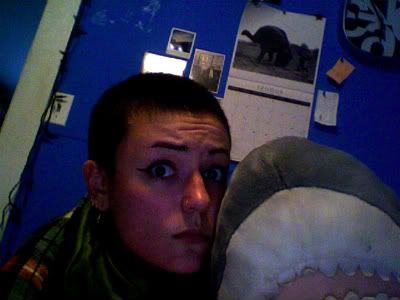 "Do you hear that Grössby? That's the sound of summer ending."
1. I haven't been here, really been present, in awhile. All of my avenues of self-reflection have been silent, and I feel that silence in a way that is terrifying. My journals go unwritten in, poems (until very recently) get brainstormed and lost to some dark corner of the forgetful half of my brain. And this poor, poor blog looks like a ghost town. For all the internet knows, I am bored and have nothing to say. The truth is, I am overwhelmed and have absolutely everything to talk about. There is just too much of it to wade through. But I'm going to try.
2. Regret seems to be the buzzword of the summer. Which sucks, considering I am that asshat who says things like, "Pssh, who regrets anything? I am always proud of everything I do." Which is not an outright lie. In the case of the past few months, I know that my doubts come from how I've spent my time. Too much whiskey (if that's possible), not enough writing. Bottom line, I'm feeling the pressure when it come to turning in a "completed" novel come December. I am well known for taking on projects bigger than the moon and pulling them off at the last possible moment, but this one seems bigger, Jupiter sized. I speak in lines from other people's poems lately, work at least six days a week, and have not sat down and finished a book since early July. I am worried about getting lost in all different kinds of shuffles. On bad days, it feels as though I already have. People are rearranging as friends leave for school again, while other return for the same reason. I know I am not standing still, but there is stasis in my bones now, where before there was entropy. I need to feel like I am moving forward. Some days I wish I was a runner, a real one, so that I could at least move myself physically out of this space.
3. I am moving out of this apartment in about a week, which is a loss of both the treehouse and my roommate. I'll be moving downtown to be closer to work, and in that way it is both exciting and practical. In another, it is completely disorienting. I cannot imagine how to make it less so, because as soon asI get settled again, I will be uprooting myself. At work today, I spent the majority of my time doing mindless organizational tasks and thinking hard about all of the things that are wrapped up in moving back to New York. Yes, I said it. I am moving back to New York. Or Jersey. City-side living. I kept having visions of goldfish and cooking dinner for my father and late night painting sessions with Maggie. I know it will be good, as well as necessary. I need to give myself permission to be excited about this. Everyone is talking about relocating to Boston post graduation, and it feels like last summer all over again, a party I am vaguely invited to but have too many reasons not to attend. I know they are all good reasons, but it's still awful to know that all of my friends will be living somewhere I am not. I suppose there are always the Chinatown buses.
4. In spite of all the gray weather and beige headspace, there is silver lining to this day. I gave a few of my chapbooks to a coworker, something I have never done before, and she came in today raving about my writing, telling me she had passed the books on to her friends. I wanted to hug her, but it seemed a somewhat inappropriate act, considering that we were standing in the middle of racks of American Apparel and she and I have never so much as gotten coffee outside of work. But still, the hug bubbled up, and stifling it almost hurt me physically.
5. Also, there was that thing that happened a few weeks ago in St. Paul. Lots of poems. Lots of crazy times. I am still trying to process all of it. The poetic essay is helping a bit, but mostly I just feel lost when looking for meaning in a hotel full of stranger who all seemed to know my name, and if not that, at least my face.