Art is more important than brushing your teeth! I have spent the better part of my day off listening to estrogen-heavy hip hop and assembling the team chapbook, and man am I amped about both of those things. I got to arrange things in space, make use of my drafting table (and long-dormant drawing skills), and reread all of the team's wonderful poems. Happy, happy Friday!
And now, a quick sneak peak at the soon-to-be-printed book's cover (and one of my three new pairs of glasses):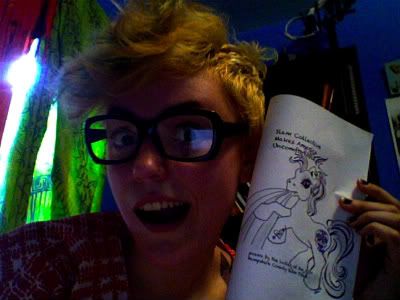 Running over to Duplications in a few minutes to make this shit real. Promise I'll brush my teeth beforehand.
Who doesn't love it when My Little Pony goes bad ass? Exactly.