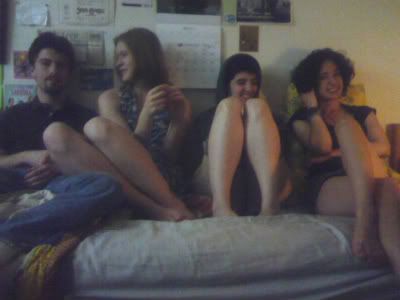 + One of the last visual memories of the old tree house AKA the first half of the move documented on video. Or really, Cass and I making a final procrastination push before jumping ship from campus housing and entering the real world. We're not going to have internet in the new tree house until at least a week from now, so the second half will either be slow in coming or posted to the internets via this coffee house internet connection. If I don't find it too disgusting to be posting video blogs while sipping rooiboos.
+ Moving is tough. My whole body feels like it's made of old tires. I have at least six bruises all up and down my thighs from carrying couches up stairs. I had a sad moment when I returned the U-Haul. I liked driving that monster a little bit too much. Maybe my true car love will end up being a pick-up truck (but shhhh, don't tell Wendeline). Over the past few days, I have driven at least 500 miles all over New England gathering my belongings, biting my lip, and hefting an endless parade of boxes into my room to be unpacked and sorted into their appropriate locations. Through all of that driving, I thought a lot about how disturbed I was every time a radio DJ mentioned that a song I'd just heard was by Justin Bieber, mostly because his voice hasn't changed yet and thus he sounds like he is Miley Cyrus's new competitor for Britney reincarnated. Speaking of which, Miley's new-ish single sounds a bit too much like Britney circa the album
Britney
for my taste. As a home remedy for the amount of top 40 pumped into my system, I have only been spinning Sage Francis's
Human The Death Dance
and a lot of French shoegaze. I know it doesn't make sense, and I have no well-thought out justification for why it should.
+ I built a five shelf bookcase last night after work and an afternoon of swimming. Being able to look at all my reading material in one place makes me feel slightly more organized, even when the floor is still covered in clothes because I have yet to pick up my dresser from Wayne's garage. Furniture is a general problem right now for me. I won't feel settled until I have all my things with me (I am far too attached to worldly possessions to have ever become a nun, as I had planned in the fifth grade).
+ I have a show coming up this Tuesday in Newmarket, NH (event info
here
), which is a literal stone's throw from my beloved Portsmouth. I think a late night visit to the Friendly Toast will probably end up happening, and I will finally buy that t-shirt with the squirrel on it. I am avoiding thinking, talking, or pressuring myself about this show which is definitely not okay because I have half of my set list left to memorize and polish, in addition to the new chapbooks that need to be printed. But I finally brought my printer into the house from the car this morning, so I suppose we can call those baby steps. I am so excited to be performing in front of audience for an extended period of time again--I haven't had a feature since last June at Got Poetry! Live. I'm looking forward to the quiver in my stomach just before the first poem, and the drop that will come just before the last poem, when I realize that it is almost time to quit speaking. Incidentally, I'll be performing again on Thursday for a
BARCC
speak out organized by the Phoenix Charter Academy in Chelsea. I've been talking art and the politics of speech with just about everybody who will engage the topic and these performances will be a satisfying space to work out the energy I've had on reserve for public displays of artistic enthusiasm.
+ But the thing nagging at me the most these past few weeks isn't my apartment coming together or my show going well. It is my dad's health, as it has been for months now. Yesterday he checked back into the hospital (his language, as if it is now such a familiar action that it is on par with a hotel stay for him) because of an excess of fluid in the lung they collapse when they did his sextuple bypass. That "excess" ended up being 2.3 liters. When my sister told me, all I could see was a large bottle of RC Cola or some other such nonsense jammed up into his ribs. I have not been much for praying in my life over the past few years, but I have gotten very good at holding my breath over these things. When I was home last week and took him out to lunch for his birthday, he barely ate half of his seafood sandwich, couldn't even finish a pint of Harp. This is my father, more salt and pepper by the day, twenty pounds lighter than the last time I saw him, a network of scars, a cocktail of pills, and now all of this little bumps in the road that make recovery much slower going than anyone wants it to be. I wish there was something I could do.