+ Got tattoo #4 Thursday after work. Thrilled with the results.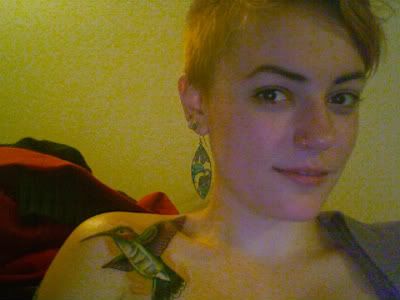 However, my artist is moving back to AZ come August, which bums me out. My first color piece, I love it, everything goes great, and then I remember he won't be here past the end of the summer. When I go on tour (I say this as if I have one planned or something), I'm going to have to go to the desert and find him. In the meantime, I'll be back under the needle again some time in July to get my ribs finished (FINALLY!). I thought this was an itch I'd eventually get out of my system, but I'm starting to think it does not work that way.
+ Half of my life is packed and stacked in my living room. My mom is coming up this afternoon to steal it while I'm at work. I most likely won't even see her. It has been strange, sorting through what I need for the next week and what can go into basement storage until I get a more permanent place. The apartment that's mine on June 1st is only mine through August, so I should probably be looking for a place to hang my hat come September. I hate moving more than anything. I just want to curl up in my car with one suitcase and my shark and have that be it. However, I have one suitcase that is entirely full of shoes and that's only the stiletto portion of my collection, meaning that I will never lead a simple life. Or rather, I won't be doing it anytime soon.
+ I am itching to dye my hair again, but I've been holding out in favor of giving it a little break. The orange has been washing out slowly, and now I look more off-kilter blonde than anything else. I think I might play towards that and work my way up to platinum by the end of the summer. Or else I'll get restless and make some drastic change. There's a box of blue-black dye sitting on the bathroom shelf in case of emergencies.
+ I have a show coming up (June 8th in Newmarket, NH) that I am trying to pull together a chapbook for/rehearse for/feel confident about. I'll be honest--I haven't had a show in a year. I hope I'm not too rusty. I should probably not put my full length mirror in the pile of things for my mom to take back to Jersey, because it's clear that a lot of practicing must go on. If only so I can get a feel for what my set needs to be. Time to tape a sheet of legal paper to the wall and start making lists.