+ Finished Jenna Jameson's autobiography laying in the Friday lawn sun. It was my first day off in two weeks, so I thought it would be best to spend it with a 600 page book called
How to Make Love Like a Porn Star
. I was not disappointed. In fact, it was probably one of the most enjoyable things I've read all semester.
+ Daddy's having surgery tomorrow. I wonder what a ribcage looks like completely cracked open. So many poems talk about ribcage this and that, but for me, it's a very hard part of the body to picture as separate from the body itself, even if I did paint it probably hundreds of times for my high school AP studio art concentration (anatomy, in case you were curious). In fact, here's an example right now of seventeen-year-old me as melodrama queen with a silkscreen:
Yes, that is a t-shirt. And yes, I do still have the screen. I've been strongly considering resurrecting it from my grandma's basement and mass-producing the shirts to just hand out at slams. But anyway. My dad's cracked chest. I am avoiding thinking about the risks, because this is his last hope. I filed out his living will with him on Tuesday instead of my usual weekly dose of poetry. There was all this language that made me really uncomfortable, like "in case of __________ circumstances, please allow me to die". I spent a lot of the time laughing to keep from getting overwhelmed and bursting into tears. My father wants his body to go to the hospital as research material after he dies, and when it's released back to us, he wants us to take a ferry across the Hudson and clandestinely dump his ashes over the side of the boat. Even though that's completely illegal, I am sure lots of people do it.
But that's a bridge we'll cross after all others have burned sufficiently. My daddy is not going to die from a little ol' crack in his chest, nor a swollen, blocked heart. He's already died seven times, and he doesn't like it, which is why he keeps coming back. Also, he clearly has unfinished business. Like being the first legless champion of Dancing With the Stars. Or finally finishing that book he claims he's been writing since last year.
+ The job search has started up again. But not to worry--I am still very much in love with table-waiting. I'm just trying to explore my options (and make more money). Yesterday afternoon, while Cass and I gave each other pep talks about our marketability on our now-decrepit living room couch, I applied for two new jobs. The first is a part time gig as a spa receptionist, which I am sure I'll at least get an interview for because I have so many years of experience in customer service. And the other is a second waiting job. However, this one is at a swankier restaurant, one where they train you to bartend! If I get this gig, I will finally have the skills I have desired for so long, and will be hurtling on into adulthood with the chops to support myself for the rest of my life. Not that waiting isn't a job that supports me. I just feel I'd like bartending even more. Fingers crossed. Then there is always the vague possibility of the night shift at a laundromat. A shift from 2-8 AM four times a week sounds almost heavenly. No one will bother me; I can read on the job; I can write on the job; I get to guard people's laundry. Sounds ideal for someone who can never sleep in the first place. Maybe I should email about that ad too...
+ Speaking of jobs, I have been tinkering with my five year plan. Though I have been doing what I said I wouldn't (looking at graduate programs), my real dream has remained consistent. Ever since I was a little girl, I have always wanted to be a flight attendant. Back then, it probably had a lot to do with the fact that I'd never been on a plane. In fact, I did not fly anywhere until the summer before my senior year of high school. Making that trip to California, and the subsequent one several years later, planted a seed in my head about being an air hostess. I was reading all of the requirements for flight attendants on some website the other day, and most of it comes back to extensive experience in customer service and a drive to make people absolutely comfortable. Me, and also, me! When rewriting my resume for my most recent round of job applications, I realized that I have over five years of experience in customer service. People my age cannot often say that. I need to translate those skills into a semi-lucrative and enjoyable job--flying for a living seems the way to go. Especially cos you can do it PART TIME and still get free flights to anywhere your airline travels. Perfect job for a touring poet? I think yes. New possibility for the five year plan: move to a city with a flight training center (most of them are apparently in California), become a part time flight attendant, bartend for the rest of that time, make enough to live on, write poems, visit all of my far-flung friends with vouchers and a big fat smile on my well-traveled face. Yes. I can picture it in perfect focus.
+ I received communion for the first time since Christmas in the hospital on Tuesday. I'm not sure how I felt about it. Lately, I've felt compelled to pray, then stopped myself because I know that's not really what I believe. God brings such comfort to so many people I love, but for me, the comfort troubles more than it assures me. My own way of praying is to write, and that seems to helping more than anything else. A nun I trust (a comical image, to be sure, the mohawked rabble rouser conversing with a trusted nun) once told me that singing is twice praying. Is that why I've been singing so loud since all of this happened? Is that the only praying I am equipped to do? In that case, here is something I've been belting alone in the car recently.
Lollipop rock is comfort food.
+ Okay, back to hiding in my cave and waiting for the world to end (or work to start, whichever comes first).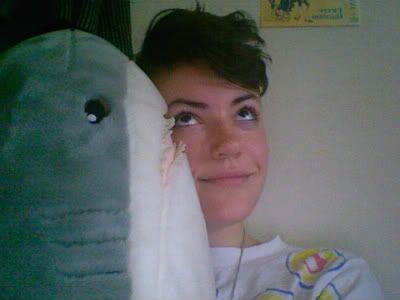 Look up, the sky is falling.