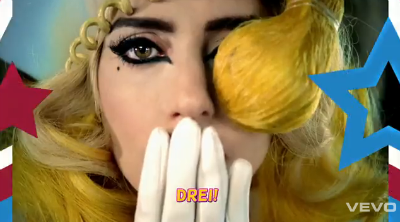 This about sums up my shock and awe at the events of last night's slam as accurately as anything else, although I must say that I am not wearing a hat that fabulous. But the sentiment is definitely the same.
In the final bout for the
Hampshire County Slam Collective
's third ever NPS team, we came up with a first in the history of HCSC (at least as I know it): an all-lady team. Christina Beam,
Anna Meister
, Katie Frank, my lovely roommate/partner in committed friendship
Cassandra de Alba
, and yours truly will be storming St. Paul this August for some serious shenanigans, and also some serious poetry business. As a fundraising ploy, we are going to have a photo shoot as pin up girls and then make a calendar. I am very excited about this whole thing. The road trip, the estrogen, but especially the calendars.
In other, semi-related, poetry news, I submitted some poems to Write Bloody last night as part of their yearly call for new authors. I am also terribly excited about this, especially because of how soon I find out whether or not I've moved on to the next round. So many big steps to take in one week.
Papa bear is still in the hospital getting stronger (I told him we need to have a Rocky-style training montage replete with egg drinks and Philadelphian stone steps, etc.), and my sisters are working overtime looking for various heart surgeons to get second and third and fourth opinions from. Ever the glamorous one, Chrissie is going to get in touch with Oprah's very own Dr. Oz (she has more connects than any other working class 19-year-old I've ever met) and Kaitlin is inquiring with old friends who've had heart surgery who may be able to point us in more productive directions. I feel useless, as I know absolutely nobody who's had these types of problems, and thus cannot ask any doctors, famous or otherwise, for help. I just have to keep crossing my fingers. I hope they don't get stuck this way. But then again, even if they did, at least I'd have that extra luck.