Remember how I had New Years resolutions? They've been nagging at me like hungry puppies because I've basically been ignoring them. Especially the one where I said I'd read a book every two weeks. That's not been happening quite the way I'd planned it. But I did happen to finish
I Am Not Myself These Days
(in tears) last night. The need to rescue someone. I know that impulse well. I'd say the last fifty pages of the book would have destroyed me for the next few days had I not read them at a ridiculously late hour and thus dulled my sense of anxiety at seeing shades of my own behavior in a memoir about someone else's life. I wrote the title on my calendar, just like I did
Maragaret Atwood
's
The Penelopiad
when I finished it back in January. And now I'm not quite sure where to begin with the rest of my stack.
For my thesis, I have been compiling a bibliography of all of the things that may of may not end up influencing what i write and how I write it over the course of the next year. It's daunting to make a list so bid and broad and general, but I'm trying to be thorough. There are mix CDs for each of the characters and locations in the novella, poems of invented sexual histories, every used page from the notebook I take orders in at work, and then this giant stack of books that will only get larger as this project rolls along, slowly getting larger than me.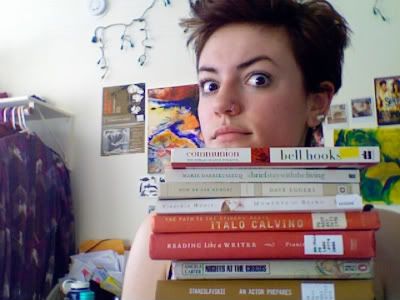 Sorry for the crazy eyes. It's early yet.
Thus far the list of the texts most immediately next to me is as follows--
Communion: The Female Search for Love
by
bell hooks
,
A Brief Stay With the Living
by
Marie Darrieussecq
,
How We Are Hungry
by
Dave Eggers
,
Moments of Being
by
Virginia Woolf
,
The Path to the Spiders' Nest
by
Italo Calvino
,
Reading Like a Writer
by
Francine Prose
(great name, right?),
Nights at the Circus
by
Angela Carter
, and
An Actor Prepares
by
Constantin Stanislavski
. Don't ask me what feminist perspectives on love have to do with method acting. These are books I still have to sit with, so give me some time for the connections between them to materialize.
Also, it's funny (and frustrating), but lately I haven't been able to write without some kind of order to do so. I had to use a Rachel McKibbens prompt to get myself going for a class assignment yesterday afternoon, and though I really liked what I got out of the effort, I was pretty miffed at myself for needed the assistance. But then again, I suppose these things happen to the best of us. Someone told me once that writer's block is just a fear of telling your truth. I'm desperately trying to get over that fear.
But I shouldn't worry too much. In my final committee meeting at breakfast yesterday morning, my advisors both told me outright that they really respect and admire my work over the past year and a half. It felt really good to hear that after all of this toiling.