1. It feels good to be solidly back in action the Western Mass way. My head is still spinning from all the pinball-bouncing around I do on a regular basis. However, now that I am standing in the same state for longer than a few hours at a time, there has been an avalanche of responsibility. (Agh! Who wants that?!)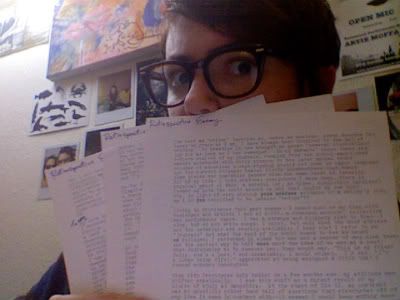 Clarabelle and I have been slaving away for the better part of today on my retrospective essay (the first three typewritten pages of which can be found above; please excuse excessive typos). It should be easy. For the most part, it is easy. Think about my courses in chronological order. Check. Write about what I learned in said courses. Check. Write about real world experiences and their relevance to class learning, also vice versa. Check. Maintain a plausible through-line pertaining to the learning contract I wrote with myself last fall. Check. The tedious part of this whole process is that it's going to end up being about twenty pages of wind-baggery about my "becoming a writer". Is there some bar mitzvah-type ceremony for this coming-of-age process?? Any way I can get fat checks from distant relatives? No? Cos it seems to me like I am doing an awful lot of "entering a new phase of my life" in this essay. I don't want to get carried away and new-agey with the narrative, but it keeps wandering away from me into touchy-feely territory. I'm not sure if I should just go with it or not.
2. Being a restless spirit, but really because I left my journal in Providence and as a result had no place to record the deep dark secrets rattling around my head, I decided late last night that I was going to move all my furniture before going to sleep. It has worked out quite well. My new desk nook is nothing if not conducive to writing this essay. Except the moment my fingers got tired of typewriter keys, I hopped in bed with my lap top and ended up here. Kind of like how the last time I attempted real work (in this particular case, it was cleaning out the unfinished half of the basement), I ended up on my computer. Although in this case it was a little different, because there were odd costume-type items lying about.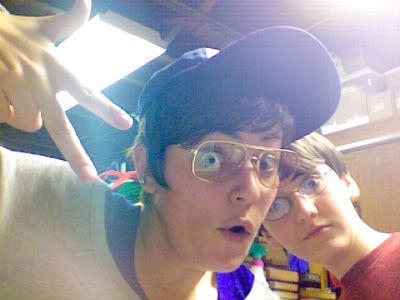 introducing Owen to the Beastie Boys
I had a near-overwhelming inclination to play dress-up last night instead of changing my sheets and organizing my desk after the move, but I restrained myself by mentally arguing that I had nothing interesting to wear. Yeah, right. However, as I told Cassandra when she noted that she had dressed more outrageously than I had the past two days running, I am still recovering from pretending to be normal while in New Jersey. It is going to take at least another week for me to fully retire the real-world-uniform of t-shirts and jeans.
3. I've been taking a chill pill as of late in terms of music. Not that I'm completely divorced from pop radio land as of yet(though I'm not sure I can even call it that, being as I have no access to any radio), but I've been giving my spandex and sequins daydream dance sequences a rest in favor of a heavy dose of mellow-me-out.
Current favorites:
Still looking for a rock album that will knock my socks off. I don't know how much longer I can hide in the recesses of my pre-existing iTunes library before going Completely mad, although I'm fairly certain it is analogous to the length of time I can spend continuously typing out this essay until my head spins off into the stratosphere.