1. I'm ill (not sick, says
Weezy
), sinus pressure, no-sleep-til-Brooklyn ill. I forget why I hate campus Januaries, and now it's all coming back to me with a surge of phlegm and a few too many cartoon sneezes. Maybe I'd feel better if I grew my hair out a bit and died it brown again?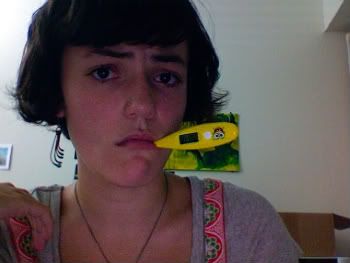 no, that can't be right...
However, I have been making the most of things in spite of this minor speed bump. Exhibit A: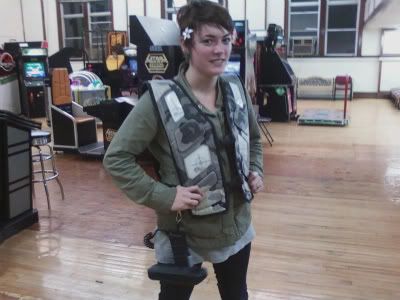 note the importance of wearing a particularly girly hair clip into battle
On last week's Providence visit (this is becoming an almost-regular occurrence), Kait and I went out for a night of substance-free fun (read: nostalgic reclamation of childhood followed by hot cocoa with schnapps and heaping helping of General Hospital) and ended up at an elementary school-turned-arcade that boasted indoor paintball and airsoft, along with a convoluted laser tag course that had my legs sore for too many days afterwards. We lost three rounds of laser tag to a group of fifteen-year-olds who had been there every night that week, played as many rounds of House of the Dead as we could justify, traded in our skee ball tickets for monkey tattoos that didn't stay on for more than a half hour, and were generally pleasantly surprised by the whole thing. From the road, the place definitely didn't look like much. But then again, we were in Attleboro, where a weeklong stay at the Pineapple Inn clocks in around $150. Don't ask me why I know that.
2. Exhibit B: last night at the
Cantab
was one of the best Cambridge nights I've had in awhile. The open mic was a stacked deck of awesome with a surprise visit from vintage heckler
Eric Darby
reading a persona poem involving a Yankee's fan on Sox Talk, day 2 of
J W Baz
's brief Hampshire-guided adventure in Massachusetts (we've nearly convinced the man to enroll), Melissa ranted about breast monsters and catcalls,
DJ Muse
played me on with an electronic track that made me feel like a super villian, and then there was this whopping moment where Tom Daly lumped me in with Brian and April as one of the venue's exciting voices (I promptly crawled into my scarf and/or melted into a puddle of my own blushing under the table where I remained for quite some time). Will Evans featured and blew me out of the water. Erin Jackson won a highly entertaining slam, the final pairing of which was against Sam Teitel. Oh Hampshire, look at you, making me proud. And then, we said, "Let there be IHOP!" And there were pancakes, and endless coffee, and so much shouting of stories down the line that I suggested we all play telephone. It felt like the best kind of family dinner, the kind you eat with the family you've chosen. And all 20-something of us (yes, we did break their seating limit something awful) said it was good. Cos it was.
3. I'm still waiting for my notebook to return to me via the mailroom (yes, I am forgetful enough to abandon my journal in another state), so I've been writing down things on a very long piece of paper towel, among various other places.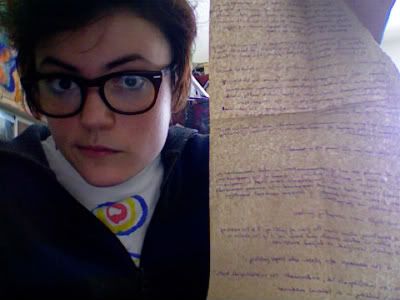 why yes, I do have the smallest of all handwriting; thanks for noticing
Most everything I write down is either for my retrospective, or a quote from
The Unbearable Lightness of Being
, which I picked up on a boring afternoon at work earlier this week on a whim and cannot put down. I read this passage last night right before the open mic and had to hug the book to my chest and not move for a solid five minutes to keep from being completely paralyzed by it.
She felt attracted by their weakness as by vertigo. She felt attracted by it because she felt weak herself. Again she began to feel jealous and again her hands shook. When Tomas noticed it, he did what he usually did: took her hands in his and tried to calm them by pressing hard. She tore them away from him.
"What's the matter?" he asked.
"Nothing."
"What do you want me to do for you?"
"I want you to be old. Ten years older. Twenty years older!"
What she meant was: I want you to be weak. As weak as I am.
It may not be as effective if you haven't read the book. The only thing I can say about that is that
you should probably read the book
.
Lara Bozabalian
has this poem called "Music Box" that references the novel, which is how I ended it grabbing it off a library shelf, and have not regretted a second of rapt reading.