1. This picture of my coffee table speaks volumes about my current state.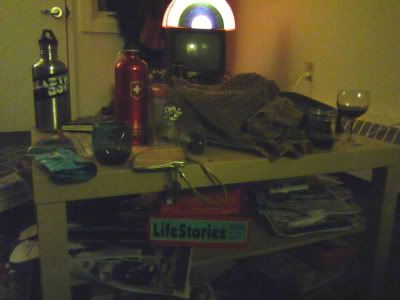 Too broke to buy cigarettes, so it's been Bugler since last week. Too beat down to make it to the Cantab this Wednesday, so we bought a bunch of wine instead. Too busy to straighten up, so the living room resembles a tornado victim. The start of a new semester. I am taking one writing workshop and waiting tables six days a week now. This pictures will most likely continue to represent the state of things.
2. Last Tuesday, because of logistical issues (and mostly because paperwork at Hampshire seems to boggle the administration a bit more than my taste), we had Slam Collective outside on the sidewalk. In late January. It looked like this.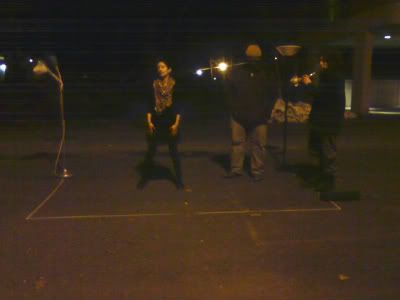 my roomie performing one of her hits with musical accompaniment
Though half frozen by the end of it, we were all in high spirits and had a huge crowd of good-natured observers willing to indulge our makeshift stage. I love being surprised by the poetry community on campus, because at times it feels like the core members care extra in the face of general ill-will on campus. It was really nice to know that people love what we do and would sit out in sub-zero weather just to get their weekly open mic fix.
3. It is difficult to even admit this, but I have not been a highway in nearly two weeks, and I haven't driven my own car on a highway in nearly three. I am a terrible nomad, living in a stationary house, working a job with a W-2 and a uniform. I have been reduced to getting my kicks from after-hours trips to McDonalds. Don't judge. The glowing interior of fast food restaurants after they have been closed to the public are oddly comforting.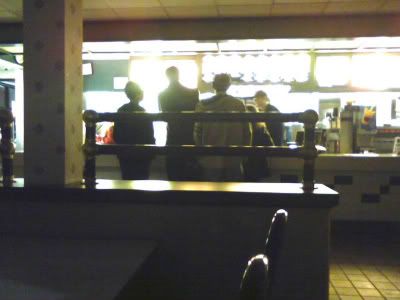 And for the time being at least, as long as I am among friends, I wouldn't have it any other way.