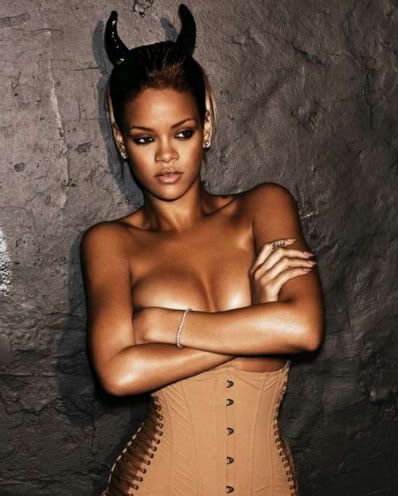 This has been a long time coming, and I'm sure by the title, you momentarily thought I'd be talking Gaga (and you wouldn't be groundsless in that assumption, but there's plenty of time to talk about her later). However, if I were to give out a woman of the year award, it would be to
Rihanna
. Not only is she one of the flyest ladies to grace any red carpet, but she is rocking it out for short-haired girls everywhere (FTW). Her new album has a very special place in my daily album rotation (currently obsessed with "Wait Your Turn", "Hard", and "Rockstar 101"). And then there's the video for Jay-Z's "Run This Town", which may be one of my favorite videos of the year for too many reasons: a powerful woman holding her own in the haze of post-apocalypse alongside a hip-hop heavyweight like Mr. Beyonce Knowles. I can definitely get down with that, especially when there are thigh high boots, bullet corsets, and fur vests in play.
But there are plenty of girl-crushes past that are equally esteemed in these arenas (fashion and bad-assery) in my mind. So why the second title? Rihanna gets my vote for woman of the year largely because of how her strength has taken shape in her personal life. I was discussing this with a friend the other day--how Rihanna's public discussion of personal experience with domestic violence is setting a positive example for young people about how to react to abuse in relationships. To have such a traumatic experience become a public spectacle must have been absolutely devastating to her, but she handled it with aplomb, to say the very least, and a responsibility to her fans I can honestly say I never expected from someone my own age. Her interview with Diane Sawyer on 20/20 speaks for itself:
"The whole night was not part of my plan." / "Domestic violence is not something that people want anybody to know." / "I'm not ever going to date anyone like my father." / "This happened to me and it can happen to anybody." / "Don't react off of love. F love...love is so blind."
By putting it simply, she says it best. Her awareness of the kind of influence she has as a public figure is admirable, to be sure, but my admiration for her goes beyond that. I respect her endlessly for publicly discussing the complex emotions all victims of domestic violence experience--the rationalization and denial, the desire for love to conquer all, the way the memory of the event haunts you long after all physical signs have faded--and explaining the way those already terrible circumstances are exacerbated by living in the limelight. And not once does she ever waver from the image I've always had of her--a strong woman. The most important part of this interview for me was that she refused to let her strength be questioned simply because she was a victim of violence. To continue claiming that strength even when others would like to define her as a victim makes her my woman of the year, because she is showing that women (and all people) shouldn't be reactions to their circumstances, but unflinchingly self-defining.