1. Happy Holidays everybody! The snow is melting in drizzle, so I'm pretty sure I can only be buried in intangible awesomeness today. I don't know if it has something to do with the fact that I'm getting older (and thus, hopefully, more grateful) or what, but this Christmas was definitely one of the best I've ever had. Maybe it's the shift in traditions--for the past few years now, my sisters and I have gone to midnight mass with my dad and then out to a huge diner breakfast afterwards to do some catching up (read: hysterical laughing) before the big day; introducing each other to our favorite beers; spoiling our brother with electronics and big squishy hugs. But even the things that stay the same every year made me extra-smiley this time around. (And I didn't even take my wisdom tooth Vicodin all day, so we can't blame the painkillers.) I got to give copies of my new book out to all my aunts and uncles; the cousins made (very) tentative plans to go on an all-inclusive cruise together in a few years when we're not so broke; and then there was cheesecake. Also, I got a parasol prototype that they'll be selling at the Seattle Museum in the near future: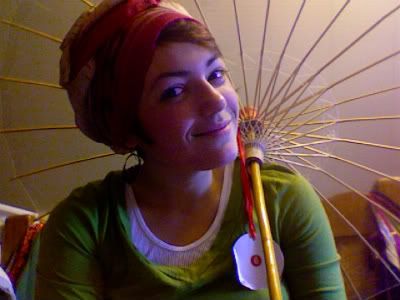 This lead to discussion of starting a traveling performance troupe as a family. We're all so loud and entertaining (at least among ourselves), that it seems the obvious choice. I think I'm going to learn to juggle, and when Chrissie gets out of business school, we can hit the road with balanced books and a whole lot of wacky fun.
2. Poetry found its way into everything yesterday--besides getting the collected works of Anne Sexton and some Plath, my sister bought me Anis Mojgani's
Over The Anvil We Stretch
and Sarah Morgan's
Animal Ballistics
. My brother made me a book of his poems (we must pause so I can yell about this for a second: MY BROTHER MADE HIS FIRST EVER CHAPBOOK!!! AT THE AGE OF 12!! IT'S HAPPENING!!!!!). I put several spoken word albums on my brother's Christmas iPod, his favorite of which is Connor and Ian's
The Narwhal's Revenge Song
. I made a spoken version of my new chapbook for my dad, as well a spoken anthology of poems for him that started out as a read-the-classics-aloud session and ended up peppered with words of friends I dug up on Facebook, Blogger and Youtube, as well as in my iTunes library. It seems that no matter how hard I try to ally myself with traditional page poetry, I find myself defining performance as an integral aspect of poetry.
As an aside, my great aunt shared an interesting quote last night that I think applies to lots of writers I know: something along the lines of "we all start out as poets and end up novelists because it is easier". I can't remember who said it, but it rings true in many ways. Novels are so much easier to sell--very few regular Joes go to the bookstore and spend their time there in the poetry section, and it's a shame. Virginia Woolf writes a lot about how poets are born with a gift, whereas novelists and essayists can be trained to a certain level of competency. It's an interesting tension to think about, especially in light of all the genre-blurring the Lady Poets have been discussing since moving in back in September. We seem to have reached a consensus that the differences between "fiction", "non-fiction", and "poetry" are chiefly in terms of form; in most cases, content crosses over with relatively few hiccups, and thus the concept of genre is something best left to the critics and ignored by the writers themselves.
3. Today, even though it's rainy, I am smiling extra-large, already starting in on new sets of mittens. I am ready to soak up this vacation as a completely immobile fun-sponge. Time to make a nest with all of my new books (among them a first edition of
Who Killed Amanda Palmer?
from my dad) and my knitting and my parasol. For now, as much as I miss the Lady Poets, and Boston, and Providence, there is nowhere else I'd rather be than curled up here, in New Jersey. It feels good to say that and mean it.