1. Over my shoulder, you will observe some odd decor choices. This is because, for some inexplicable reason (or really just because my dad is out of town for the holiday), I am staying in the "master bedroom" while visiting home for the weekend. Ever since my mom moved into my basement bedroom, where I sleep while visiting is a strange and delicate fish that is usually not handle well; I typically end up sleeping in the attic with my sisters. It feels like the orphanage dormitory a la Madeleine, minus the nun, although my G-ma would make a pretty convincing nun. That room has so many beds in it, and I guess it makes sense, being that the three of us (myself and my sisters) used to all live up there together at some point, although I can't remember exactly when because there has been so much room shuffling within this house. Everyone has lived in the room that is now my brother's for some period of time, however large or small, and with varying degrees of success. And now that only Chrissie lives at home, it becomes the location of the seasonal sister slumber party. This slumber party is not as much fun as it sounds. My sisters (and I love them dearly in spite of this) tend to gang up on me when the three of us are all in the same location for more than two days at a time, making my stays in the attic with them contentious. There is usually at least one major argument about this during a given stay, although the parties involved change every time. But hopefully there will be no arguments this time, since I get the BIG BED to myself! Yay!!! For the time being, I am building my weekend work nest in this
Sleep Number bed
(unbelievably comfy!). This means a trade off: quiet time and privacy for writing versus the added distraction of eight billion cable channels, but I think I can handle that.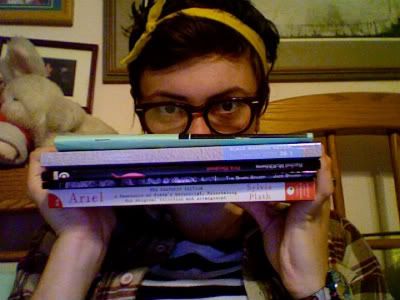 2. In my hands, you will observe my weekend reading list, or at least the best and most beloved parts of it. From top to bottom:
Caits Meissner
's "a vessel of love/(a glass of wine.): 40 Day Vigil";
Black Warrior Review
Fall/Winter 2009;
Rachel McKibbens
'
Pink Elephant
;
Jade Sylvan
's
The Spark Singer
; and Plath's
Ariel: The Restored Edition
, for my final paper. I have chosen to spend this large chunk of time with only ladies because I am in my final push for the new chapbook and I need good female heads to get the wheels in my own female head turning. Also, all of the books aforementioned are amazing and inspiring, each containing a different facet of what I need to write honestly, and well. I am excited to have them here while I finish this journey. Additionally, they are each a kind of comfort food, which is necessary in light of the holiday, and in light of the fact that I can only chew with one side of my mouth.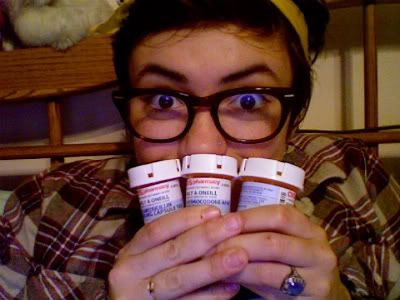 3. Speaking of this injured mouth situation, I apparently have a wisdom tooth that's trying to sneak out as if nobody's looking. Clearly it carries all of the leftover teenage rebellion I forgot to flush from my system before I turned twenty. I told the tooth it was not allowed out, that there were reasons for the rules of my mouth, but no, it had to have its way, and now I take 500 mg amoxicillin 3 times a day and 600 mg ibuprofen 3-4 times a day and a half tablet of Vicodin whenever the pain becomes absolutely unbearable (which lately has been always, but I really just needed the prescription to be able to sleep comfortably through the night). Before I went to the campus nurse practitioner on Monday after class, I had been sleepless and grouchy, and now I feel a dull ache, but that's about it. I am sure the drugs are helping, but it also may be a side effect of the Ravi Shankar. I'm trying to chill myself out through all possible mediums being that stress can only make pain worse. By taking my mind off of this rebellious, partially exposed wisdom tooth, I won't have to think about what kind of mockery I will have to make of Thanksgiving dinner in order to eat it tomorrow. The general consensus among my friends is that it will end up being some gravy shake abomination, and it's funny, because I never imagined the reason that would keep me from turkey on Thanksgiving would be a dental emergency. I was much more inclined to imagine sudden onset veganism. Or an alternative holiday where pie is the only food present (chicken pot pie, pumpkin pie, Eskimo pie, etc.). I'm not sure I'll even be able to eat any pie, which is a travesty, because this is the first holiday where I have not been a pie virgin. I abstained from pie for my entire life until last spring when Peter and I started baking together once a week, making this my first Thanksgiving on the other side of that silly abstinence. And to go without pie now, it seems a cruel joke. I suppose it is my own fault though. Or my silly teenage tooth. So spiteful.