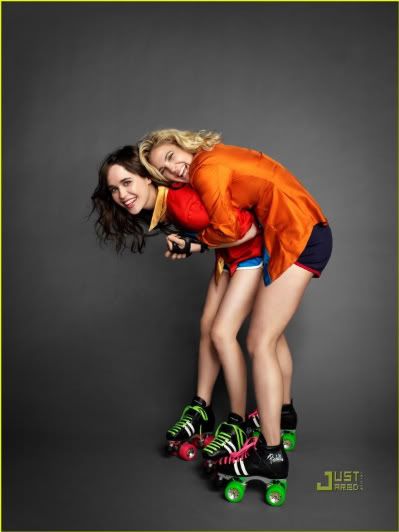 I love these two so much I've been trolling the internet for roller skates and repeatedly telling Cassandra that I am going to run away to join a derby. We saw
Whip It
last night and now I'm a little obsessed. Perhaps because slam doesn't exactly satisfy my thick competitive streak.
I've been stomping around all day in my Docs wishing that my wardrobe was even close to being as cool as Bliss's in the movie. I pine for the day when Hollywood sweeps in to make my life into a movie and hands me a big pile of clothes that make me look like an even radder version of myself. (Not that I don't already think I'm pretty rad, but sometimes having more to play with means extra-fabulousness.) Speaking of which, I went to Plato's Closet today to sell a bunch of useless things that were just taking up prime closet real estate and ended up coming home with two new-to-me dresses. One of them is yellow, which seems to be the color of the moment for me, and the other is this amazing denim shirtdress with little gold nautical buttons.
Another thing I've been yelling at Cass about lately (besides my jonesing for the second installment of my rib tattoo, of which I may or may not post a sketch sooner rather than later) is that my closet is finally arriving at a place where I am excited to get dressed every morning. Now I just have to grow my hair to an acceptable length, organize my shoe closet (which is really just my suitcase shoved under the bed), and perhaps do my homework. Although, who really does their homework in the first place?