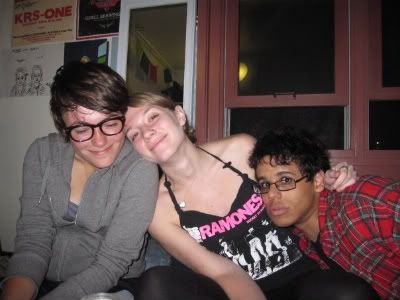 Myself, Danica and Georgie getting silly after large liquor doses and lots of story-telling.
Things are already flying off the handle bat shit insane here in terms of all the running around, getting forms signed, making appointments, figuring out schedules, having mini heart attacks, buying books, reading said books, seeing people I haven't seen in months, seeing people I didn't think went here anymore, remembering my post office box combination, settling into my room, finding a place in the world that feels right now that I am such a different kind of puzzle piece. But in spite of things being hectic, we've still managed to have some seriously good times in between all the flurries of semester-starting.
Tuesday night was the first meeting of the
Hampshire Slam Collective
, and even though it was technically unofficial, we were blown out of the water by the sheer size of the audience that night. Our NPS team did a feature that had everyone in the room roaring with applause and nearly jumping off the edges of their seats. I had a new friend visiting to see what slam was all about, and the show was so strong that she told me she's coming back every week before leaving for France because she was so epically blown away by what went on that night. And after the feature was our first slam of the season, something I've been jonesing for since the last time I slammed way back in June. Apparently this jonesing has made me a slam superhero, because I was one of the final two performers left, going up against my dear friend Sean and losing by a slim margin. This seems insignificant, and in most cases it would be, except that he is our venue's IWPS rep and I nearly beat him in a slam. He asked me when I was planning on touring, and even though I greeted that with a nervous laugh, I told him I had ben thinking about setting out on the open road a year from now when I'm done with school and attempting to find my bearings in the world. Stay tuned for further developments on this front. After all the poetry, we retired to the Lady Poet living room with a gaggle of near-and-dears and shot the shit into the wee morning hours.
Wednesday night we made our first pilgrimage to the Cantab of the semester, a journey that had fantastically funny car rides to and from the city, a whole pile of free sandwiches, and most importantly, it contained the realization that I am actually starting to have a real career as a poet. It's been happening over the past few months - people, usually writers and performers I really respect from afar and sometimes even the poet who's featuring at the venue that night, will come up to me and ask me for my book or for a copy of the piece I read that night in the midst of praising me with high compliments and asking about what I do and where I come from. It's gotten to the point where I now have a collection of email addresses spanning several countries and most of the United States, all from people wanting to remain updated on my movements as a poet. So I gave birth to a new blog dedicated solely to my work as a poet and performer; it's called
Fiction Pays The Bills
and it went live yesterday. It's still a 90 lb weakling right now, but soon (fingers crossed) there will be things to update you about. Maybe a new chapbook is in the works? I'm not sure yet what's in store, but I'll be sure to let you know when new things are happening.
And then there was last night. All I'm going to say is that my living room was full of bourbon and forties and lots of laughter, and I am so happy to feel at home. Cass is making coffee and bacon and I'm about to pour myself a big bowl of cereal and start getting it al together for the day. Cheers to all of you - I hope your days are as full and bright and shiny as mine have been this week!