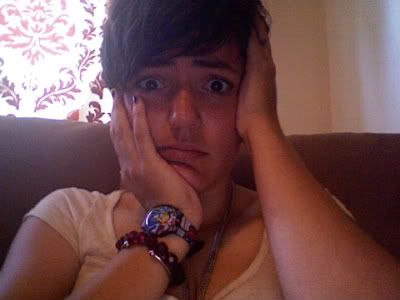 This is my there-are-five-days-left-to-move-out-of-this-apartment-panic face. Five days seems like a decent amount of time, but I have to work every single day Wednesday through Sunday and be out of here Sunday night. Where did the summer go? Was I not paying attention or something? This seems somehow unfair. There were so many things I wanted to do. I wasted so much time griping about the rain and now the excess of sun (that has given me the worst of work uniform tan lines); this must be punishment for that. Or something.
I've begun packing, and I have the attention span of a gnat soaked in Pop Rocks, so I decided to take a time out and admire all my fancy shoes, many of which were acquired this glorious summer.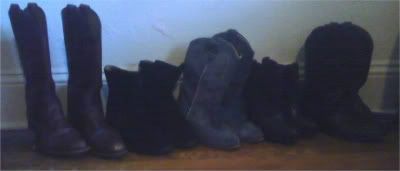 brown leather Frye cowboy boots, Udelco, last summer; black suede ankle boots, Marshall's, last fall; blue suede cowboy boots, Beacon's Closet, summer '06; black stiletto Jessica Simpson ankle boots, TJ Maxx, today; black leather cowboy boots, Urban Renewals in Allston, July

Miss Me Mary Janes, Berk's on Thayer, July; brown suede Seychelles platforms, TJ Maxx, today; all-black spectator pumps, TJ Maxx, last summer; red patent peep toes, Nordstrom, spring '07; black patent Jessica Simpson stilettos, Cohoes, June; brown wedges, Old Navy, June
And now I have to cram all of them in a suitcase and get ready to make the drive back to Jersey where I will regroup and make moves for Amherst. I hate packing. It makes me panicky. It also makes me want to play dress up. This is going to be a long day.