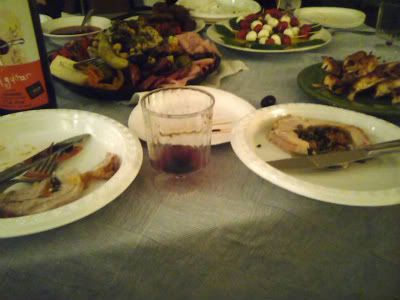 Last week Kait and I went to a truly wonderful dinner party in Narragansett hosted by a few of her friends who are visiting for the summer from France. Karen and Patrick living in Paris for most of the year but take long holidays every summer, and I was so happy to meet them after hearing so many wonderful things from my sister. Kait is going to visit them next April (which I am insanely jealous of - silly senior year...), a trip I'm sure she's been longing for ever since she left Paris after her last visit way back in high school.
Several glasses of wine and lots of delicious little appetizers got me to a warm and fuzzy state that allowed for some serious considerations, some of which I'll share with you now. Patrick and I spoke a great deal about traveling, how important it is to travel while you're still young and excited about learning everything you can get your hands on. I've always been a huge proponent of travel, but talking about it with this level of seriousness really got me revved for some world traveling. I figure that I should start on the smaller side, and lately I've been leaning heavily towards a North American road trip next September. If I'm in Rhode Island and working all summer just like I was this year, I'll be able to save up enough money to make it happen, and I've always wanted the open road and all that it has to offer. And I have seen far too little of this country to be able to call it my own. So there's that plan. And then there's my maybe-reachable pipe dream of a European tour including Helsinki, Stockholm, Oslo, Copenhagen, Berlin and whatever I can get my hands on in between. As much as I'd love to go to London and Paris, I'm more interested in the more northern oddities to be found. And there's always my off-in-the-distance longing for Asia - backpacking through India, bar hopping in Japan. The world seems so big, and the only foreign things I have any grasp of at this point are foods from places I have never seen. I feel ashamed of that, but I know that I have more than enough gusto to get on a plane, even if it's alone, and undertake some adventures.
Come this May, I have no idea where my feet will take me, but I'm very excited to follow them.