It's next to impossible not to be bored with today after the events of yesterday.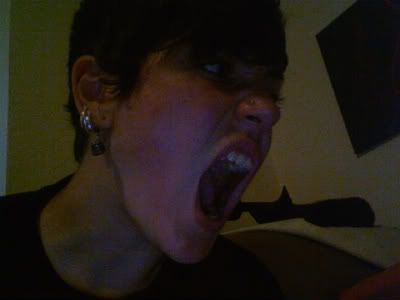 This is how I've taken to entertaining myself instead of orchestrating a much-needed haircut or reading one of the many lonely novels I carted to Providence when I moved in or maybe even working on my novella. No, I would rather menace the cats. Perhaps because I am still recovering from the most full day I've had in awhile, or maybe I'm just losing track of how many spilling-over-the-brim-and-soaking-the-table days I've had in such a short span of time.
Recipe for a perfect Allston afternoon:
lychee juice boxes from the Asian grocery store down the block,
99 cent carton of strawberries, each dipped lovingly in Nutella,
Marty McConnell chapbook, Ramen noodles, lemon water
& warm sun finding its way onto a shady front porch.
This is how I spent my yesterday. It is a saga that started Tuesday afternoon. Cassandra and I were both in crisis and decided I would come to Boston on Wednesday so that we could be escape artists and pretend the rest of the world didn't exist for at least a few hours. The night before I was set to depart, I was at Got Poetry Live on Thayer where I got talking with the featured poet (
Write Bloody
's own Ryler Dustin - take a look at his amazing book
Heavy Lead Birdsong
here
) and some other news friends and realized they needed a lift to Boston. So we all made a driving date for Wednesday morning and when the time came, we hopped on the highway with some
Dylan
and some
James Tate
to keep us company.
After letting off my passengers on a particularly leafy green street and saying all the see-you-laters that entailed (Ryler was featuring that night at the Cantab, where I would be headed at the end of the day), I meandered my way over to Allston and settled in for a wonderfully detoxifying lazy day. Catching up with the bulk of my
Slam Collective
buddies was very necessary - somehow, even with Boston only an hour away, I managed to put off any kind of visit until this point in the summer, and next week is the NPS send-off for everybody. This summer is flying out of my hands like sand in the wind.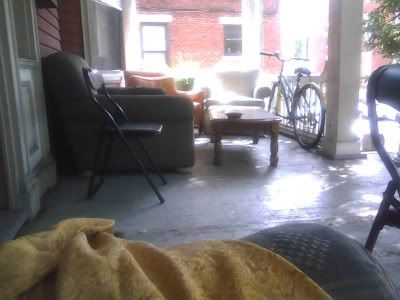 The porch of the Allston poet house glowed brighter than I imagine the pearly gates would, and had I known work was going to be canceled today (rain, again) I would have just stayed for as long as possible. Cass and Sophia kept remarking that it felt so right for me to be there, as if I had been living with them all along. I was overwhelmed with happiness for the day, a condition only intensified by the trip to the Cantab (my first since May) followed by a trip to IHOP followed by more time on that now-beloved porch.
I got to catch up with so many people I've been missing sorely, and I hope not to be so scarce for the rest of the summer. April told me she was planning a book discussion for
To The Lighthouse
and would love for me to be around for it. Even having not read as much as I planned this summer, my heart literally skipped a beat at the prospect of getting to spend substantial time with Virginia again. If my work schedule allows, I'll be back in Boston again on Tuesday night for a poetry show, and maybe Wednesday again for the Cantab team send-off.
And I leave you with the following image, a completely heinous jumpsuit Cass found when we were browsing around Urban Renewals (where we both ended up finding perfect black cowboy boots).