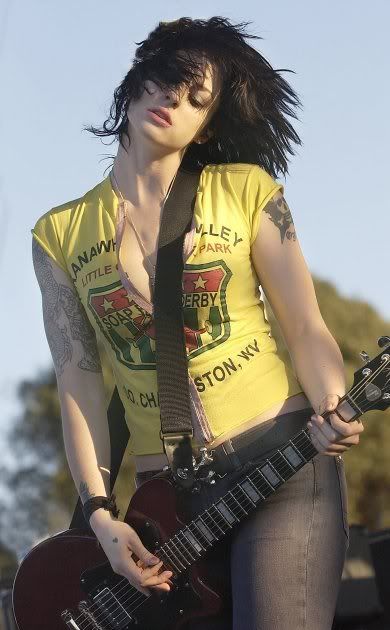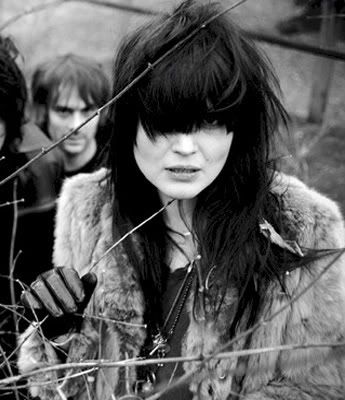 Continuing my obsession as of late with lady-rockers, pop divas, and all the wonderful gems in between, today I am spending my time with
Brody Dalle
and
Alison Mosshart
, or the respective bad-ass front-ladies of
Spinnerette
and
The Dead Weather
. I figure, if I am going to have dance parties while I do laundry and clean the stove, I might as well make it count.
Speaking of dance parties, as part of a many-faceted night out with Lily yesterday (that included a show in a UU church complete with Gansetts, falafel, seeing a living SHARK in a bar, etc.), we hit up Tazza, got some Maker's on the rocks and proceeded to dance for about three hours straight. I have not had a night of dancing like that...probably ever. Nicky and DC were just sitting in the corner laughing at us because of how much fun we were having. Boys who are too cool to dance make me giggle - Lily and I kept trying to get them to come join us, and DC did for a bit, but he did not seem to have the stamina to take it as seriously as we were taking it. When I got home I felt so good it was a chore to try to get to sleep. People talk about loving the single life, but at this point I'm not even thinking about whether I am single or not. And if I keep having such good times where the silly will-he-or-won't-he-look-my-way-tonight isn't anywhere near a factor, I will continue to be a more than happy camper. I am happily in love with the slow builds in dance songs when they bring the beat back layer by layer until you get almost dizzy with it, and that is enough for me.
Tonight Chris's band
Paper Eagles
is playing at Tazza (Lily and I were remarking that we feel like we live there lately) and we're going to have the second installment of our dance party + destruction. There have been rumblings about a ladies-only brunch tomorrow morning/afternoon, so clearly things are only going to continue on in this highly enjoyable vein for as long as we will them to do so.