Whenever I have a day off from work, I always get very overwhelmed by the space of it. This usually results in me spending at least half of said day in bed, either asleep or pretending to be. But today I resolved to fill every free moment with something that needed to get done, and I'm pretty sure I succeeded. I did three loads of laundry, mailed the first check I've ever written, wrote three poems (much overdue - I was close to losing my lead on the 365 project!), washed a million dishes, cleaned out the refrigerator, changed my sheets, basically got serious about chore time. And I feel great because of it.
This man -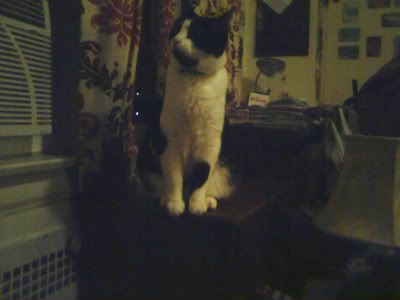 - has been staring at me all day. I guess it's not a typical occurrence for anyone to be home with him all day long, so he must be at least slightly confused. I've been trying to catch him to snuggle for the better part of the night, but in spite of being fat, he is a lot faster than he seems.
Off in academia (yeah, I forgot I was a part of such blustering too...), my schedule for the semester keeps getting turned on its ear, and then its nose, and then its elbow, and so on. A few days ago, one of the professors I'm close with emailed me to invite me to TA a first-year tutorial on inclusive fiction (what a wonderful phrase), and I obviously got very excited. As a close second to writing, I love assisting others in their own writing above most other things. Besides bacon, long highway drives, and finishing novels of course. In corresponding with her about the course and what my responsibilities would be, she inquired about my intentions for scheduling, specifically if I was planning on taking the Div III creative writing research seminar in the fall. I immediately pulled up my iCal and made the according alterations. So much for this being a relaxing last year. Although I'm fairly certain that if I got back to
Hampshire
and suddenly wasn't busting my ass, I would become very disoriented, if not outright despondent. So I am mentally preparing myself for some serious juggling. I would be lying if I said I wasn't thrilled about this.
Tomorrow is "Day Off: Part 2", and I'm not entirely sure how to spend it after running all of my errands today. The summer is quickly winding down (soon the juggling will commence!), and I'm not sure where exactly it got to. Thankfully, I went swimming for the second time of the season (criminal!!) Wednesday night after Kait and I finished breaking down from a wine tasting we worked together. We bring bathing suits in the car with us always, so we decided that as a remedy to the unbearable humidity we were just going to jump in the ocean. Nevermind that we did not have towels. Such formality has never concerned us before. And that swim was one of the best choices I've ever made. I don't think I've ever felt more refreshed in my life. It was the perfect cap to an otherwise perfect day (I sat in the Gansett laundromat and wrote for hours before work, and one of the owners of the restaurant told me that I had a job there indefinitely if I wanted it). I am a happy camper, to say the least. Now all I need is a giant cup of
White Electric
coffee and some non-neurotic to snuggle with occasionally and I will be the happiest I could possibly be.
I leave you with the soundtrack to this happiness, my
Last.fm
Top Ten from the past week.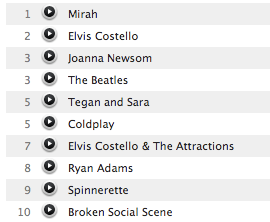 Happy Friday!