Point B, which is our weekly artist shindig at AS 220, was fabulous. I am still inspired by the afterglow days later. It was like being in a multi-medium cipher, and we all had so much fun. Afterwards, Meg and Eric came over and we went for walk down by Roger Williams Park in the dark and told stories for what felt like hours. The friends I am making here are all because of the arts, and they re all exactly the kinds of people I need to be spending time with to keep the wheels in my head turning at the frenetic pace I want them moving at.
Yesterday work was canceled because of the rain, something I found out when I had already driven halfway down to Narragansett, but thankfully I had brought clothes with me this time, so I pulled over on the side of Route 4 near South Kingstown and changed, then hung a U-turn and drove to East Greenwich to chill with DC at work. We had many good talks and I wrote endlessly in the back room until we ventured next door to get delicious Mexican food. I am becoming convinced that a burrito is all I really need when I'm thinking complicated thoughts. After finishing our extended lunch, I said goodbye and headed back to the city for some quality time at Blue State Coffee with Meg and a bunch of her friends. We spent a few hours doodling and talking about old TV shows.
When the caffeine party adjourned, Meg and I headed to my apartment in Cranston to grab directions to Dan's feature at the Narrows in Fall River. I made her what she claims is the best grilled cheese she's ever had. We sang to the cats. And then we sang some classic
Alanis Morissette
on I-195 East.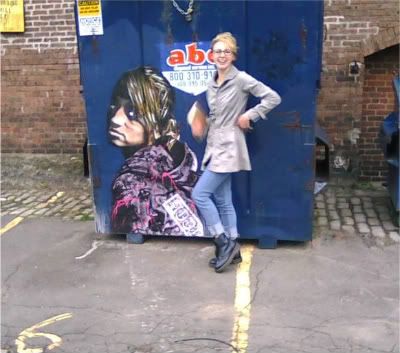 Fall River is a very interesting place, as you can see by the graffiti. And I am pretty much in love with
the Narrows
. DC's feature was fabulous, and there were some really great acts on the open mic. Meg and I were melting into puddles over it for most of the night. At the end of the list, there was a block of four female performers, which was so exciting. I love seeing women perform. I got kind of upset earlier in the night that all the slots had been filled by men, but the quartet of women made it worth it, especially because the night was rounded out by my new friend Kayla, the only performer who played piano. She has the sweetest voice, and it was a pleasure to hear her a second night in a row after the intimate performance at Point B on Tuesday.
To finish off the evening, DC, Meg, and I stopped at
Nice Slice
on Thayer Street for final sustenance and talked with one of the staff there for awhile. He suggested this delicious creation he had concocted - margherita pizza with broccoli and chicken. We urged him to get it put on the menu and to name it after himself because we had been calling it "the Ron" all night anyway. After considerable ruthless people watching, poetry reading, and group hugs, we put a cap on everything and all headed home. I have been having some of the best nights of my life here, and I do not hesitate to say it.
Today has not been planned yet, but Saturday is the Providence Arts Festival and a whole bunch of the Point B kids are going to get together for a picnic and chill session. And then Saturday night, DC is playing a radio show, which will be destination number two. I could not have picked a better Neverland to steer my course towards. No matter what, I am sure that this is exactly where I am supposed to be.
Also, "
Jolene
" by Ray LaMontagne has been popping up everywhere, and I thought I should share it with you because it is one of my new favorite songs. Follow the link to see him performing it live at Abbey Road.