My brother Owen, the lounge lizard I miss terribly living so far from New Jersey. He is literally glowing with awesomeness.
In spite of not missing much else besides family, I had a surprisingly good visit this week when I trekked home for my sister's graduation. The main event was tedious, as graduations typically are, but the rest of things were wonderful. There's not much to write by way of description of events, so I'm going to let the cell phone pictures do the talking.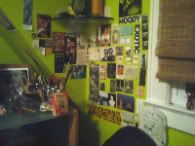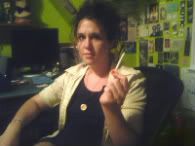 I missed this room, and the lady it belongs (Galen, member of the Rohrs' posse from way back in the day) was having a birthday, so naturally, we had to celebrate. For us, celebration meant driving into Brooklyn after midnight to do some Bedford bar hopping.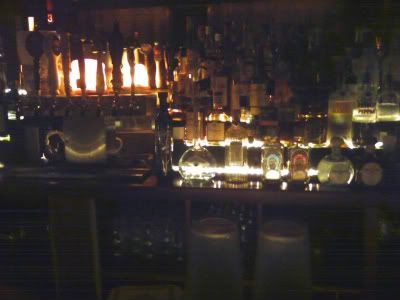 The array at our first stop,
The Gibson
, where we did tequila shots with lemon wedges (which I actually liked better than the traditional lime), had beer adventures, were chatted up by strange men twice our age, did whiskey shots with said strange men. I performed a few poems on the sidewalk out front for Galen's friend Jesse who was drunk before we'd even gotten started on our journey. He told me that my writing was very violent, and though I'd never thought of it that way before, I now feel inclined to agree with him.
The bartender was adorable and hysterical and I feel awful because in the whirlwind of hysterics and storytelling, I forgot to leave him a tip. Ugh. In a happier (or perhaps stranger) vein, there was a three legged dog present, which made everything more special. We then moved on to the Abbey, where we were pleasantly surprised by $3 IPAs and the perfect atmosphere.
SLZ
and I had many an illuminating conversation over our beers.
By the time we started heading home, the sun was coming up over the FDR drive and the early bird morning commuters were speeding along on the other side. I can't remember the last time I was out so late. As a result of a combination need to pee and a desire to absorb the night from a pretty vantage point, we pulled off 9W for a pit stop at one of the many scenic overlooks.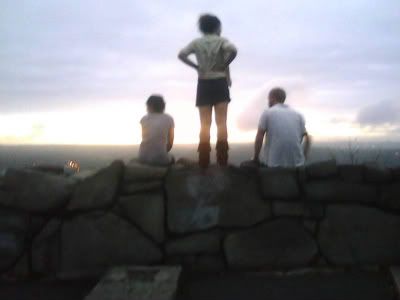 SLZ, Galen, and Jeff checking out Yonkers from the wall
I'm not sure if I've ever been drunk upon the sun coming up, but I couldn't help thinking that it would be impossible to wake up later that afternoon with a hangover if my "night" ended like this: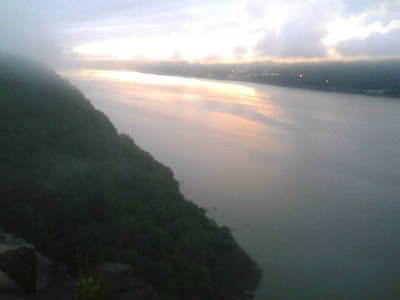 Right now, I leave you with the view, and will return with (Part Deux) later today.