So tomorrow night is the night I have been waiting for since the week I arrived in this Noah's Ark of a city. Yes, ladies and gentleman, tomorrow night is my first real feature in the world beyond Hampshire. I am absolutely having a heart attack about it, but in a good way (if that's even possible). Being that work was canceled (again) because of the rain (it never stops), I spent a good portion of today memorizing and/or performing for Toby and Lucy (otherwise known as my sister's cats). Hopefully it shows. I want to do excessively well tomorrow night so that everyone under the sun buys product and puts lots of money in the hat so that I have at least some cash to tool around with when I'm home in the next few days. If you're in the area, come over to
Blue State
for organic, fair trade beverages and a decent-sized helping of poetry.
In further reference to the return to Jersey, this impending journey marks a turning point in the summer. Wendeline (my
1992 Cutlass Ciera S
, who just recently reached the 60,000 mile mark) and I have to go our separate ways until the end of August, when we will triumphantly return to Hampshire together. Until then, she's got some work left to do for my family. I'm pretty bummed out about this, but in the process of dropping her off, I'll be stopping off at my little sister's high school graduation, possibly having a meal with my family (who knows how long it's been since that happened) and seeing
SLZ
. I'm trying to accentuate the positives of this visit, because going back to Jersey always destabilizes any kind of mental clarity I acquire, either at school or elsewhere, and based on how wonderful Providence has been for the restructuring of my world-view, I am worried that I'll get back to the apartment Thursday/Friday and be completely destroyed. Hopefully that's not the case, but I'm trying to be at least partially prepared for the worst. We'll see if it works out.
These are the two things I see when I close my eyes to go to my happy place currently: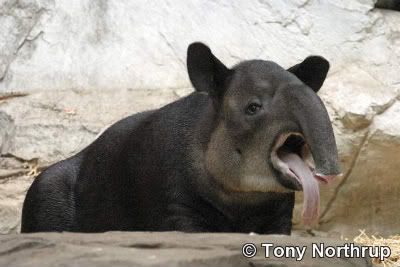 As long as there are tapirs making funny faces and Kaki King in the world, I have reason to smile at least halfway.