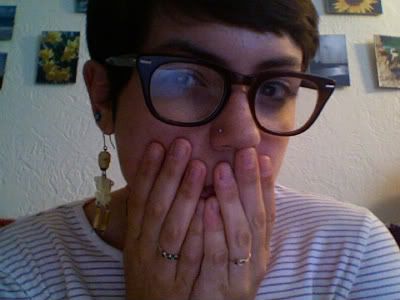 There is a lot to talk about and I have been putting off doing any of it, but now that I have done four loads of laundry and read two chapters of a book (finally making a dent in the epic summer reading list, which will be discussed later), I feel it important to check in with the rest of the world. I have been living in relative isolation, and the solitude of it is doing wonderful (if sometime painful) things for my psyche. I get out of bed in the morning solely because I want to, which has to be both the most foreign and most fulfilling feeling I've had in a long time. I have been writing a lot as well, and taking care of the apartment as best I can without becoming overwhelmed by the small sink filled with many large dishes. So things are good, better than expected, and in spite of being somewhat lonely, I know already that it is going to be a good and productive summer.
Graduation was very strange, but mostly enjoyable. Maggie and I watched the whole thing with our mouths hanging half-open, and I would not have believed half of it if I hadn't been watching with a cup of coffee in hand, most definitely awake. Several people received diplomas with dog leashes in their free hands. And yes, there were dogs at the end of those leashes. All of the speeches were so casual, I was a little taken aback. No one was required to wear a cap or gown, but the people who did wear them looked like they were wearing said attire that was left over from when they left high school four (or however many) years ago. The ceremony opened with bagpipes and ended with live jazz, not a hint of Pomp and Circumstance to be heard of. And you can download
the whole thing
from the school website, at least eventually - right now it's only available for streaming. Bobcat Goldthwait and Ken Burns spoke, which is really all that you need to know about how unorthodox the whole thing was. It got me excited for next year, but it also made me nervous for how my family would respond. The only other college graduation I have attended was my sister's from Providence College (well actually I only went to the mass the day before, but that they had a mass really says something about how different our school are), and it was in the Dunkin Donuts center in Providence. Not exactly the outdoor, social change-oriented, barefoot hippie somewhat-lovefest I witnessed on Saturday. Next spring will be interesting for sure. Congratulations again to all my Div Free friends, may you experience the career-less life of following your passions wherever they take you. If that's what you're gunning for anyway.
In thinking of my own future, my ultimate goal lately has been to find a place to go to poetry readings around here.
AS 220
is only a few blocks from my apartment, and on Thursday nights it is home to the Providence Poetry Slam, which is exciting, although I have yet to attend since things have been so strange and unsettled still. But there's another poetry venue in town (that I have yet to figure out the location of...silly me) run by one the regulars at the Cantab, Ryk McIntyre. Where rumor has it, I'm going to be featuring on June 23. I was told to expect a formal invitation when I drive out to Boston for the Cantab on Wednesday night. More news to follow as the date approaches.
For now, I shall return to my function as cat wrangler/kitchen lord/scholar of Virginia Woolf, a capacity that will continue virtually uninterrupted until Saturday, which is the next time I have work. I really don't know how I managed to finagle this sweet set-up. All that's missing are the Slam Collective regulars, but they'll all be within a safe distance by June 1st, and then everything will increase exponentially in awesome. Until then, I will continue to soldier on through this non-routine routine, eating mock krema and/or citrus fruits for most meals and shooing the cats off my futon.
I leave you with the recipe my uncle's girlfriend Sarah sent me in the mail this week with Julia Child's
My Life in France
for the aforementioned mock krema.
1 cup bulgar wheat (Goya sells it in 1 lb bags)
3 8 oz cans tomato sauce
1 green pepper, finely chopped
1 small onion, finely chopped
1/4 cup olive oil
1/4 cup lemon juice (about the amount you get from one lemon)
Combine all ingredients in a bowl and let stand for three hours. Then enjoy with pita, pita chips, in breakfast burritos, with scrambled eggs, etc. Or just eat it by itself, which I have been doing for many lunches and late night snacks.