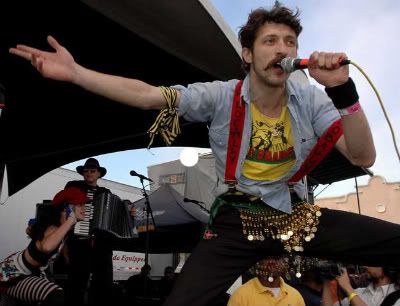 In my dreams of course. Yesterday I watched this documentary
Kill Your Idols
that was a free on demand movie from the Sundance channel, and though I've always loved and been fascinated by
Gogol Bordello
, I am now absolutely smitten with
Eugene Hütz
. The documentary was about
no wave
and its influence on the New York music scene since the 80's, and though I'm not sure I could regularly stomach
Teenage Jesus and the Jerks
, I have found a new thing I'd like to research the shit out of. Also through the documentary, I found
Black Dice
, which is now in heavy rotation in my iTunes. I think the cats hate me now. They keep staring over at the strange noises coming from my laptop (either Eugene yelping or bizarro feedback and electronic noises) like they'd like to murder me.
To escape their intensity, I am going to the grocery store to pick up the ingredients for falafel burgers and mock krema. Afterwards, I may or may not talk about the strange nature of graduation at my school. I am still trying to process what happened yesterday involving diplomas and
Bobcat Goldthwait
. And yes, you did read that correctly. Also, I think I might have a big throbbing crush on Ken Burns. He's almost too adorable in person.