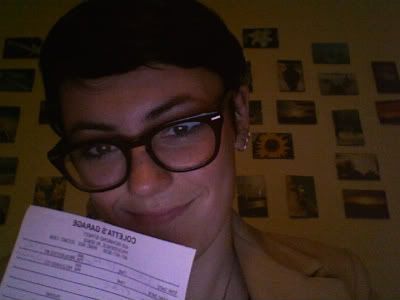 This would only ever happen to me. I was so excited for my first Providence poetry reading (and so flustered by the fucked up directions that Google Maps gave me to get there) that I locked my keys in the car. Thankfully, Geico roadside assistance came to my rescue free of charge in less than half an hour, so I pretty much love my car insurance and that silly green gecko a lot right now.
Blue State Coffee
had a really nice vibe and very interesting voices, so I'll definitely be making it a regular stop on my highly limited social calendar. Ryk McIntyre, one of the hosts, has essentially booked me for the 23rd of June, which I am thrilled about, because it's a low key and loving place and I feel very at home there. Highlight of the evening: during the last poem of Patrick S's feature, a Providence police officer wandered in to use the bathroom. This last poem happened to be about the many flavors of
Smurf
sex, which was hilarious in isolation to begin with. But when the police officer emerged from the bathroom, he stayed to listen to what everyone was laughing about and turned many shades of horrified when he realized what was being discussed. Everyone in my corner of the room nearly died when he left before the poem was even over. I wish he had stayed even a few more seconds, because then he would have been there to witness the line, "Who's Papa Smurf now? Who's Papa Smurf now? Say it!" and all hell probably would have broken loose.
Needless to say, tonight has been memorable, and I can't wait for more nights like this one. Although hopefully not involving tow companies if possible. Tomorrow is the Cantab, my home away from home. And then Thursday night is AS 220, if actually decide to go, which would make three nights in a row of poetry for me. I should be so lucky on a regular basis.