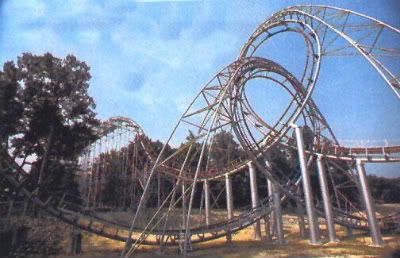 Tomorrow, I will embark on a two day trip with my sister and her school to Six Flags Great Adventure. The last time I was at Six Flags was when I visited northern California, and because of the circumstances it was one of the worst days of my life. I must replace those memories with good ones at the park in my home state. Hopefully I'll be able to work up the nerve to ride at least one roller coaster, but I am not holding my breath about it.
In Providence news, I hit up that reading at Blue State Coffee again last night with Daniel to try out a new piece I'm hoping to compete with next Thursday in the Grand Slam. It went over really well, so I'm trying to let that make me confident. We then went to
McCormick and Schmick's
for some amazing (and amazingly cheap) burgers, and to watch the Cavs vs. Magic game that was on. I have never followed basketball, but I was biting my nails for the whole of overtime.
I'm waiting for someone to give me something to hate about this place. It really seems too good to be true right now. I haven't been so content since...well, I really can't remember the last time.