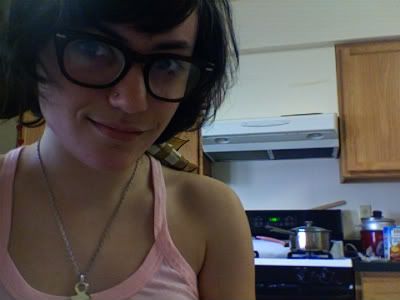 It is warm enough outside lately to wear tank tops (albeit under cardigans still, but it is only April), to let my hair air dry after a shower, to go without socks. I love this.
That pot on the stove is potato soup that I am making for James, because he is currently miserable with some mysterious cold. I saw him this morning when I was at work and he hadn't slept all night. He's been slaving away in the media basement finishing the final cut of his Div 3 film(which will be showing May 3rd if anyone is interested), and it has visibly taken its toll on him. It is so close to the end of the semester too. I want him to feel better so that he can enjoy it.
Next week is the first of the two final slams for our NPS team, and I'm nervously revising and expanding upon (then editing down) so many 365 poems in some sort of preparation. I'm trying to pare down the 12 step poem to a slam length, but its proving nearly impossible and I am very frustrated, because I know it would score well.
I want to lay out on a blanket in the sun and just forget about all of the silly things I've been worrying about lately. I have all afternoon to do it, so I probably will. It seems the best possible option on a day like today, when then sun will be as warm as I want it to be.