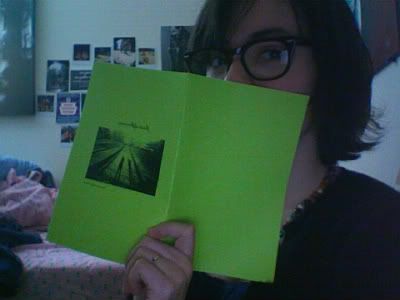 Yesterday was a big day. Besides my tattoo, I also picked up a box full of my first professionally printed chapbooks (from the photocopy people in the library basement, but still, I'm excited)! Eighteen poems, all written within the past six months (-ish, I'm not sure about the exact timeline of one of them), most of them coming from the 365/365 project. It is called
finite differences
after a math textbook I was shelving in the library a few weeks ago, and I am very very happy with it. Hopefully they'll sell at CUPSI, and if not, I have that feature coming up in April.
Speaking of poetry, the North Beast CUPSI send-off on Wednesday was out of control. The Cantab was as packed as I have ever seen it, which is saying something, because it's typically standing room only if a feature is highly anticipated. However, that night, I think we might have been breaking fire codes or something. I'm still on a bit of a high from performing for that many people. I can only imagine how I'll feel after Philadelphia. The Emerson team may or may not be coming down tonight to workshop things with us (I really hope they do, they're all so rad), which I'm sure would only be a prelude to the hotel madness that will ensue by the end of this week.
There will be stories from the road, I promise you that.