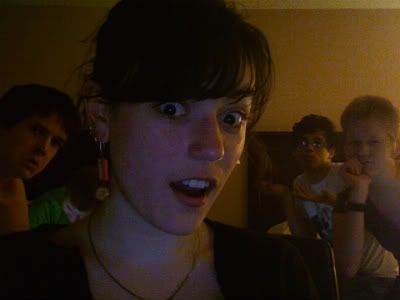 Greetings from the nineteenth floor of the Sheraton! We can only reach this floor with our specifically coded key cards. Say that five times fast. Specificallycodedkeycardsspecificallycodedkeycardsspecificallycodedkeycardsmyfingersarealreadyangryatme. Good lord, I never thought a train could take such a long time, but apparently seven and a half hours is a cakewalk compared to Amtrak services from Seattle to Amherst (three days and a half days according to Charley). We are all vaguely exhausted, incredibly slap happy, and utterly ridiculous, as per usual. Tomorrow night, the poetry festivities begin. Tonight, I have a good amount of SoCo and I like all of you far more than digital football. Sleep tight. More updates after things have actually taken place.
P.S. Travel highlights:
text battles, or rather, battling my phone to send text messages
Paris Hilton wannabes loudly smelling of Juicy Couture and sunless tans
light reading (three chapters of
Watchmen
until I had to stop myself)
seeing Jersey out he window (even if it was only the Meadowlands)
crack head asking Charley for seventy-five cents in the El station
sourdough grilled cheese in a diner, a real one, none of that Western Mass b.s.
the ridiculous screensaver on the suite's computer