Slam Collective
is a fairly visible organization on campus, and we get people from all over the place at our open mics, including this gentleman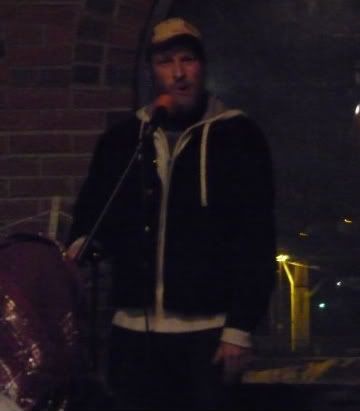 Kevin Devaney, who has recently started this terribly bohemian monthly meeting of minds known as "The First Thursday Reading" (until he can come up with a better name). Typically there's some kind of musical act, followed by two local poets, all things accompanied by decent helpings of alcohol and a great bit of whooping and hollering. And, as I stupidly forgot to mention, this isn't at any normal kind of venue - it all takes place on a stage made of wooden pallets in a basement. It's a great forum for new and developing voices in the valley, and though the featured artists don't get any kind of compensation, the audience is really into it and we all have a really fantastic time.
Last night Northampton band Salut Ananas played the opener, followed by my dear friend Sophia Holtz (member of the 2008 Hampshire County National Poetry Slam Team that competed in Madison, Wisconsin; possessor of one metric ton of awesomeness) and Kerry O'Keefe (Northampton area poet with some really amazing pieces; also, a former blues singer and fluent in French). I'm not sure I have any way to link to any of Sophia's work - sadly - but I did manage to Google up some of Kerry's from a couple years ago when she was one of the Northampton Drive By Poets, a piece called "
Late Mass in August
".
Next month my CUPSI teammate George Delgado is one of the featured poets, along with another Slam Collective member Adam Gottlieb. And the month after that, I'm featuring. With
Shira Erlichman
. Needless to say, I'm already freaking the fuck out about what to read, and how not to look like a complete tool next to someone who is currently on tour, has been on NPS teams, blah blah blah. Kevin drunkenly told me last night that my work has never not impressed him, but I couldn't tell if it was just the Jack Daniels talking. Next week there will be a slam/dance party, which should be raucous, but I have slam team practice and I don't think that Charlie would be very happy with me if I canceled again. Unless our slam practicing were to take place in front of the basement audience, in which case I think I found a loophole. Please excuse me while I go pen devious emails.
In closing, support your local art movements. Read things and make noise in basements, you will not regret it.