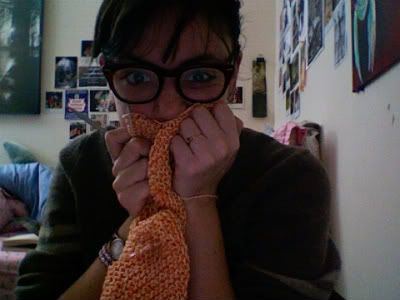 That dress is barely cold (I haven't even attached the pockets yet), and already I'm knitting something new. I don't know where the space in the day comes from, but I'm making headway. It is in what I have lovingly referred to as a mac 'n cheese type yarn, and I'll post pictures when it's finished, or close to being finished, because we all know how impatient I am.
As CUPSI gets closer, I feel an eerie calm falling over me, and I'm not sure if I should be alarmed about it or not. Kat has lost her voice for the time being; we haven't finished working out our group piece yet; I need to get a new poem off page that Charlie is convinced will score well. Everything seems to be stacking up against us, but I am convinced we'll pull through and make a good showing when we end up in Philly in a few weeks time. And as an addendum to that note about future travels, I am very excited to be making my way back home for some serious basement cleaning, Spring break will most likely be me knitting, reading, sleeping, and purging my house of all the things I have pack-ratted away since middle school. Taking the train home from Philadelphia costs $12.50...something about that seems old-world romantic to me, and I don't know why. I have a feeling I'm going to do a lot of writing on the train, both to CUPSI from here in Amherst and from 30th Street home. I can't wait.
The Oscars are tonight. James and I are reprising our pool from last year, making it our first real annual tradition. I feel kind of old saying that, but I like it. I hope we do it again next year, even if we can't watch together. I am sure the night will precipitate a rant of some sort, so stay tuned for some movie talk (which I haven't had the time or energy to accomplish in too long). Until then, I am entrenched in literary theory.
In post-script, James has my copy of
High Fidelity
, but every time I suggest we watch it, he makes some disgusted comment about John Cusack. I just don't get it. That man is a god to me...