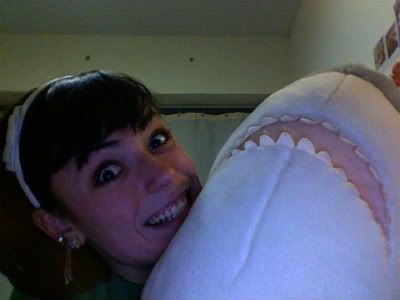 Why are Shark and I so deliriously happy? Well, it could be one of many reasons. Last night was the first night of principal shooting for
Go Ask Alex
, for which I am both prop girl (I would demand to be called prop master on any other occasion, but for some reason "prop girl" just seems right for this) and a minor character. I wasn't shooting my scene last night, but I was on set anyway cos I am just that dedicated to my friends' successes. Even if it does mean that they will successfully graduate once the project is completed and leave me behind in this frozen tundra. Another possible reason: this is my acting debut, or at least the first time I have taken acting seriously on film. And Shark and I are amped about that. There's also the fact that I haven't had any migraines in the past few days, or the pride I take in being able to choke down nearly a whole protein shake this afternoon. I am taking my vitamins. Kaitlin is coming to visit me on MLK Day, and we are going to eat peanut noodles and play Game Cube and watch movies - since Christmas break was not nearly enough time for sisterly bonding.
So yes, there are lots of things to be deliriously happy about. I will check back in sooner rather than later with the Week in Movies (it was quite an interesting one), wacky stories from the set I am sure, and hopefully a report of a full recovery from my mysterious illness that is slowly but surely disappearing in spite of my totally fucked sleep schedule and too-packed-for-words schedule of things I need to get done. I haven't touched my book in nearly a month, although that's apparently a good thing according to this fascinating interview with four up-and-coming literary agents in the January/February issue of
Poets & Writers Magazine
. They all said that if a manuscript is worth it, you'll be able to leave it alone for awhile and come back to it with fresh eyes many times over before it's even ready to be shopped around, and also that you should never try to get something published that isn't your absolute best work. A lot of pressure, but I guess the time off not thinking about it is the easiest part of that method. We'll see how easy or hard it will be to get back into the swing of things.
Anyway, my laundry is calling, and I have to get my ass on a bus in a little while. For. My. Shoot. !!!!