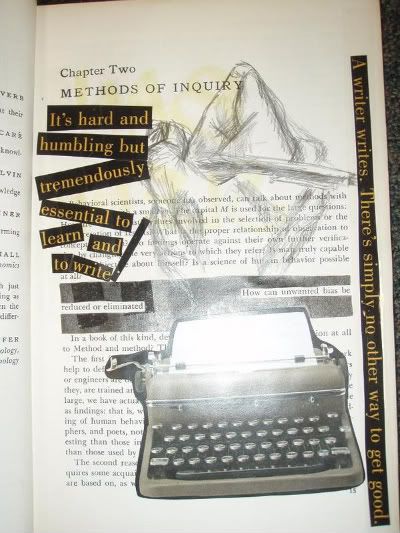 A collage from about 8 billion journals ago - I think most of the added stuff was from a college brochure from Pratt Institute, all the way back when I was being inundated with such things the summer before my senior year. I thought it was apropos for this entry.
Since I got to school, I've been pretty heavily involved in Slam Collective. Last year I missed only one open mic that we had, on top of going to Cambridge almost weekly to read at the Cantab. On special Fridays I would even make the drive to Manchester, New Hampshire to read. So many hours spent in cars for this. And for about six months, even though I was going to readings and enjoying myself and writing more than I ever have in my life, I didn't want to slam. At the beginning of the year it wasn't an issue for me - I did it every chance I had and even did fairly well for someone so new to it. And then something changed for me and I decided to sit in the background for a bit. I think that background time has really paid off.
Last night we had the slam to decide the team we'll send to CUPSI at U Penn in March, and it is the first time I've slammed since god-knows-when. And I am happy and proud to say that I made the team. But even more flabbergasting (is that a word?) is that I won the slam. I haven't won a slam in over a year, and never one that mattered for more than bragging rights. And it felt so good to be back in action, performing better than I ever have. I credit all the acting I've been roped into by the guys over at Black 29 and their constituents for that.
So now I'm in for an even more rigorous schedule than I had planned on for the spring semester. Four classes, 12 hours of work study, movie shoots on the weekends, slam team rehearsals three times a week, a possible editor's position on a campus publication, the list just keeps piling up. But I can handle it, I hope. There's nothing I'm willing to cross off the list, so I'm pretty sure this is the way it's going to stay.
And just for the record, I cannot stop smiling.